Federal Police attacks students from Ayotzinapa who prepared a solidarity concert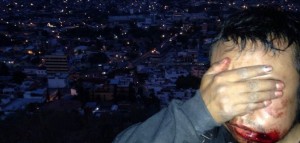 Guerrero, México, 14 Dic 2014.- Inebriated Federeal Police officers attacked students from Escuela Normal de Ayotzinapa, who prepared the concert "A light in the darkness," which was planned in the city of Chilpancingo this afternoon in solidarity with the 43 students disappeared by police forces in Iguala.
There are about 17 people wounded, among them two relatives of the disappeared students, students from Ayotzinapa, teachers from CETEG and UNAM students. Medical attention was denied by the Chilpancingo Red Cross, reason for which they were transferred to other hospitals. Phones, shoes and wallets were taken from them.
Hear an interview with Omar García, student from the Normal de Ayotzinapa, from the location of the events:
(Descarga aquí)