DENUNCIA PUBLICA
EJIDO TILA, CHIAPAS MEXICO A 05 DE SEPTIEMBRE DEL 2019
A LA OPINION PUBLICA.
A LOS MEDIOS MASIVOS DE COMUNICACIÓN NACIONAL E INTERNACIONAL
A LAS ORGANIZACIONES SOCIALES NO GUBERNAMENTALES.
A LOS DERECHOS HUMANOS NO GUBERNAMENTALES.
A LA SEXTA NACIONAL E INTERNACIONAL.
AL CONGRESO NACIONAL INDIGENA.
AL CONSEJO INDIGENA DE GOBIERNO.
A LA RED CONTRA LA REPRESION Y LA SOLIDARIDAD.
A LOS LUCHADORES SOCIALES QUE LUCHAN POR JUSTICIA Y DIGNIDAD.
A LAS JUNTAS DE BUEN GOBIERNO
COMPAÑEROS Y COMPAÑERAS QUE LUCHAN POR JUSTICIA Y DIGNIDAD, RECIBAN UN CORDIAL SALUDO DE PARTE DE LOS EJIDATARIOS Y EJIDATARIAS DEL EJIDO DE TILA, CHIAPAS PERTENECIENTES AL CONGRESO NACIONAL INDIGENA (CNI); Y UN ABRAZO FRATERNO DESDE TODOS LOS RINCONES DE LUCHAS JUSTAS Y HONESTAS.
DENUNCIAMOS PUBLICAMENTE TODAS LAS FALSEDADES QUE HAN ESTADO CIRCULANDO EN LAS REDES SOCIALES; DEBIDO A QUE, EL PASADO 03 DE SEPTIEMBRE DEL 2019 EN UNA BODEGA DE LA SOCIEDAD DE APICULTORES DE LA REGION CHOL UBICADO A 1 KM. APROXIMADAMENTE DE LA POBLACION DEL EJIDO DE TILA, CARRETERA TILA A YAJALON CHIAPAS SUCEDIÓ UN ASALTO EN LA QUE PERDIO LA VIDA EL C. ISMAEL LOPEZ GUTIERREZ ORIGINARIO DE LA LOCALIDAD DE CANTIOC ANEXO AL EJIDO TILA. COMO A ESO DE LAS 1: 30 HORAS DE LA TARDE APROXIMADAMENTE TRES SUJETOS ARMADOS IRRUMPIERON AL LUGAR LLEVANDOSE VARIOS MILES DE PESOS QUE EN ESE SITIO SE ESTABAN PAGANDO A LOS PRODUCTORES SUS COSECHAS Y ES QUE EN ESE LUGAR YA ES MUY APARTADA Y POR ESO APROVECHARON LOS ASALTANTES, RESULTANDO HERIDOS A LOS CC. PASCUAL GUTIERREZ MARTINEZ, ABEL VAZQUEZ JIMENEZ, JUAN LOPEZ PEREZ DEL EJIDO JOLPOQUITIOC Y CUATRO PERSONAS MAS A LA QUE DESCONOCEMOS SUS NOMBRES.
ADEMAS DESMENTIMOS LOS SEÑALAMIENTOS QUE ESTAN HACIENDO HACIA NOSOTROS, PUES AÑADIMOS QUE CUALQUIER COSA QUE OCURRE TANTO EN LA POBLACION EJIDAL DE TILA Y SUS ANEXOS SIEMPRE HEMOS SIDO SEÑALADOS Y ES QUE APROVECHAN TODO PARA MANCHAR LA DIGNA LUCHA QUE HEMOS VENIDO EJERCIENDO, PORQUE SIEMPRE HAY PERSONAS INTERESADAS EN ACABAR CON NUESTRA AUTONOMIA. NOS ACUSAN DE FORMAR CAMPAMENTOS DE ENTRENAMIENTO MILITAR; SIN EMBARGO, NOSOTROS NO TENEMOS TIEMPO PARA ESAS COSAS PORQUE SOMOS GENTE DE TRABAJO, LOS QUE LO ESTAN DIFUNDIENDO QUIZA SON LOS QUE ESTAN FORMANDO GRUPOS PARAMILITARES PARA GOLPEARNOS COMO ESTA SUCEDIENDO EN OTROS EJIDOS Y REGIONES DEL ESTADO DE CHIAPAS. NUESTRA LUCHA NO ES DE ENTRENAMIENTOS; SINO, DE RESISTENCIA POR NUESTRAS TIERRAS, EL TERRITORIO Y EL DERECHO A LA VIDA. EN NUESTRA CONCIENCIA ESTA EN QUE NO DEBEMOS NI UNA VIDA, AUNQUE EL C. MIGUEL VAZQUEZ GUTIERREZ SUPUESTO COMISARIADO LEGAL ANDE DIFUNDIENDO QUE NOSOTROS ESTAMOS MATANDO GENTE, NUESTRA LUCHA NADIE LO VA A PARAR, PORQUE NUESTRA LUCHA ES JUSTA Y SE FUNDAMENTA CON EL ART. 2 FRACCION I Y II DE NUESTRA CONSTITUCION POLITICA DE LOS ESTADOS UNIDOS MEXICANOS.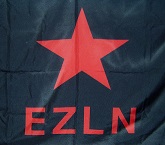 From the Cat-Dog's Notebook:
Preparations for the Puy Ta Cuxlejaltic Film Festival, a CompArte Focused on Dance, and the Second International Gathering for Women in Struggle
Twenty-six years ago, in 1993, the Zapatista women wrote the "Women's Revolutionary Law." In one of the articles of the law, they declared they had a right to study… "and even to be drivers," as noted by SupMarcos in a public letter commemorating the anniversary of the law and the role of the late Comandanta Ramona and Comandanta Susana in the creation of the women's law. Maybe someday we'll learn why the indigenous Zapatista Women aspired to be drivers. But for now, the EZLN's Sixth Commission presents an exclusive preview of the documentaries to be premiered by the Terci@s Compas [Zapatista media] on a still to-be-determined date. Here goes:
Title: "…And Even to be Drivers"
A documentary filmed entirely in the mountains of Southeastern Mexico in 2019. Written, directed, and produced by Zapatista women, this documentary compiles scenes of Zapatista compañeras learning to drive. Duration: undetermined. Format: unknown. Rating: Z (as it should be). It won't come out on Netflix, nor on Amazon Prime, nor on Apple TV, nor on HBO, nor Fox, nor…what are the other options? Well, not on any of those either. Nor will it be shown in theaters. It will be shown exclusively in the Zapatista Caracoles… Oh, also at the Second International Gathering for Women in Struggle? Should I include that? Got it. But without any date or location? Okay. But people are going to complain that I'm leaving them hanging. Couldn't we at least give them a hint, like a road sign? No, not for the actual road, I mean like an idea of potentially when and where… in December? Of this year? Hello? Helloooooo? Feeling low? Huh, well it looks like they left, but I can tell you they don't look low at all… in fact they had a glint in their eye, in their gaze, like a goal, or a challenge—a rebellion, really. A Zapatista glint, that is.
Disclaimer: no men were hurt in the production of this documentary. Well actually there were, but only in the form of a few blows to the ego. Oh, and also a few who fell as they were running away from a compañera who got pissed because they were yelling stuff at the women learning to drive… no, it wasn't me, I was watching from a ways away, I wasn't going to find myself in the vicinity of that piece of lead pipe she was carrying… yee-haw…
Apocalyptic Synopsis: A virus produced in the laboratories of the Illuminati is released in the mountains of Southeastern Mexico. For some strange reason, it only affects those law-breakers who call themselves Zapatista women. The virus causes them to do strange and illogical things—they rebel, they resist, and they take over jobs and responsibilities that should be the exclusive domain of men. This documentary compiles evidence of this insubordination, and you can see exactly how the Zapatista women consider themselves not only to be free but also—you're not going to believe this—even to be drivers. Didn't I tell you? Nobody has any values anymore. (Continuar leyendo…)