Autonomy and Resistance
Los muros del capital, las grietas de la izquierda
13 de abril de 2017
San Cristóbal de Las Casas
Cideci / Universidad de la Tierra Chiapas
"AHORA NOS TOCA A NOSOTROS APOYAR"
San Cristóbal de las Casas, Chiapas, Jueves 13 de abril.- Este día la Comisión Sexta del EZLN, Gilberto López y Rivas, Arturo Anguiano, Carlos Aguirre Rojas, Sergio Rodríguez Lascano y la Mexican Solidarity Network compartieron sus experiencias y reflexiones para continuar agrietando los muros del capital.
Apenas una hora después de que Tom Hansen, de la Mexican Solidarity Network, destacara la paciencia y la pasión de la militancia zapatista como un ejemplo para construir comunidad, solidaridad y autonomía en tanto centros de la vida cotidiana, el Subcomandante Insurgente Moisés anunció que, tras vaciar sus bolsillos y no hallar euro, las comunidades zapatistas acordaron trabajar en colectivo para juntar un total de 3,915.5 kg. de café limpio y tostado para mandarlo a los hermanos migrantes, para que sean ellos quienes allá se organicen y  vean cómo volver el café resistencia y rebeldía:
"Los migrantes no se fueron porque quisieron, sino porque ya no pudieron estar en su finca, mejor conocida como país -inició su participación el Sub Moisés-. Nosotros los comandantes y comandantas, y bases de apoyo somos iguales que ellos, nuestros hermanos migrantes son parte de nosotros, pero está cabrón lo que les va a pasar, era su pensamiento de los compañeros y compañeras del EZLN frente a las acciones de Trump contra el pueblo migrante. Por lo cual en reunión de las bases de apoyo Zapatistas, se tomó la decisión de apoyarles".
Gilberto López y Rivas apuntó que conocer a los dominadores, quienes adquieren ahora un rostro fascista, continúa siendo una tarea pendiente del pensamiento crítico. Ante un terrorismo global de Estado que no respeta ningún derecho con tal de apretar las tuercas de la dominación, López y Rivas esbozó la necesidad de retomar una hegemonía popular (incluso hizo alusión al concepto <<Nación-Pueblo>>)  construida a partir de los distintos ejercicios Autonómicos. Sólo así, con una resistencia integral, independiente y unida que contenga un programa mínimo, podrá hacerse frente al fascismo del siglo XXI. Para Gilberto López y Rivas, la propuesta de conformar un Concejo Indígena de Gobierno podría avanzar hacia este horizonte. "No tenemos otra opción que hacer retemblar en sus centros la tierra", concluyó.
En su participación, Sergio Rodríguez Lascano señaló las mutaciones más recientes del sistema productivo capitalista. Tras desmantelar conquistas sociales urbanas y rurales y destruir el mayor número de procesos comunitarios posibles, el capital habría realizado una deslocalización de sí hacia países "en desarrollo", que al final terminaron siendo economías de enclave listas para ser completa y abiertamente extraídas. En tal reconfiguración capitalista, los nuevos mandones son aquellas grandes compañías transnacionales cuyos accionistas, dispersos y conectados en el mundo, terminaron formando una suerte de transnacionalismo rizómatico líquido. Es decir, compañías que, más allá de tener dueños, tienen ahora por mandones a accionistas que a la vez son accionistas de otras empresas transnacionales, lo que, por citar un ejemplo, explicaría que 25 empresas posean hoy más capital que el PIB de Estados Unidos y Japón juntos.
Bajo este panorama, Lascano resaltó que, con el Brexit y el ascenso de Trump, no estaríamos regresando a la fase anterior a este proceso neoliberalista, sino que este momento de extracción –ahora amurallado– se volverá aún más extremo. Por todo ello, en una época en dónde ganar un gobierno se vuelve acaso un asunto decorativo, la izquierda tendría que comprender –continuó Lascano– que la gran tarea pendiente es generar organización social y autogestión económica, ello para tumbar esa cuarta pared del escenario social que impide que unos sean actores y otrxs espectadores. Si la agenda del poder no es la nuestra, y las cosas se cambian realmente en la calle y no en las instituciones, Lascano enfatiza que la propuesta de conformar un Concejo Indígena de Gobierno podría generar una nueva red que construya con su propia fuerza lo común, lo parejo y lo comunitario. Si lo bueno de las catástrofes –continuó Lascano– es que obliga a la gente común a actuar en común, esta propuesta aumentaría la capacidad de que el apocalipsis extremo capitalista no nos lleve entre las patas. "En tiempos mórbidos es necesario reencantar a los de abajo por medio de la práctica y las ideas", lanzó Sergio.
En el final de la jornada, el Sub Moisés reiteró que "el enemigo capitalista no nos va a dejar, no va a permitir que sea el pueblo, mujeres y hombres los que van a mandar, jamás lo van a permitir (….) El enemigo capitalista no va a dejar de explotarnos, no nos va a explotar a medias, no va a haber nada más que el pueblo, mujeres y hombres que tienen que organizarse". "Así como en el '94 nos apoyaron, creo que ahora nos toca a nosotros apoyar, de decirle al pueblo que luche con resistencia y rebeldía porque ya no les queda de otra", concluyó el Subcomandante Insurgente Moisés.
Gilberto López y Rivas
(Descarga aquí)
Tom Hansen
(Descarga aquí)
Sergio Rodríguez Lascano
(Descarga aquí)
Arturo Anguiano
(Descarga aquí)
Carlos Aguirre Rojas
(Descarga aquí)
Subcomandante Insurgente Moisés
(Descarga aquí)

Video – Primera sesión:
Video – Segunda sesión: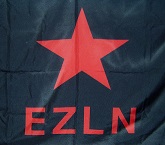 Organized Coffee Against the Wall
Subcomandante Insurgente Moisés
Seminar "The Walls of Capital, the Cracks of the Left"
Cideci / Universidad de la Tierra Chiapas
13 April 2017
(Descarga aquí)
Good afternoon or good morning to those who are listening to us around the world.
What I'm going to talk about, compañeros, compañeras, brothers and sisters who are present here and those who watch us from elsewhere… what I'm going to talk to you about is not what I think, but rather what the compañeras and compañeras who make up the Zapatista Army for National Liberation bases of support think.
We compañeras and compañeras here in front [members of the EZLN comandancia] understand that we serve as support for the thousands of compañeras who are bases of support; we support the thousands of compañeros who are bases of support. That's how we've defined it lately because we pass along to them what we see, what we hear, what we come to know. And what is it that we have come to know or hear about? Trump's wall.
When we started hearing about this, when we began to understand what was going on, we met with the compañeras and compañeros of the Indigenous Revolutionary Clandestine Committee [CCRI] and began to discuss what is happening to our migrant brothers and sisters who are in the United States.