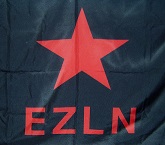 ALQUIMIA ZAPATISTA.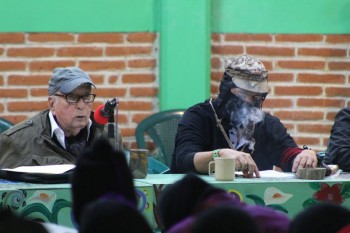 Escucha: (Descarga aquí)
2 de enero del 2017.
El valor de la palabra es algo que cuidamos mucho.  Cuando nos referimos a alguien, no sólo lo nombramos, sino que también nombramos su estar con nosotras, nosotros.
Así decimos "hermano", "hermana"; pero cuando decimos "compañera", "compañero" hablamos de un ir y venir, de alguien que no está fuera, sino que, junto nuestro, mira y escucha el mundo y por él lucha.
Menciono esto porque está aquí, junto nuestro, el compañero zapatista Don Pablo González Casanova, quien, como es evidente, es en sí mismo un municipio autónomo rebelde zapatista.
Como está aquí el compañero Pablo González Casanova, voy a tratar elevar el nivel y el rigor científico de mi exposición, evitando toda clase de albures (en grande o en chiquito, presten atención).
-*-
  Alquimia.  Antes de que agoten su saldo consultando en sus celulares y tabletas qué es "alquimia", en "Wikipedia", y que me abrumen con toda clase de definiciones, les aclaro que con esto nos estamos refiriendo a un antecedente, a un paso previo (si es necesario o no, ahí lo vean) a la constitución de una ciencia como tal.  O como como decía el finado SupMarcos, "la alquimia es una ciencia enferma, una ciencia invadida por los parásitos de la filosofía, el "saber popular", y las evidencias que saturan el complejo mundo de la comunicación actual", según se puede leer en uno de los documentos que dejó a su muerte.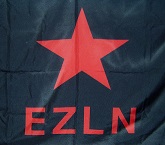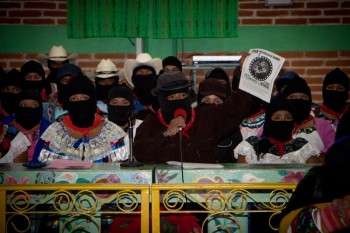 JOINT PRONOUNCEMENT FROM THE CNI AND THE EZLN FOR THE FREEDOM
Listen here: (Descarga aquí)
OF OUR MAPUCHE SISTER MACHI FRANCISCA LINCOLAO HUIRCAPAN
To the Mapuche People:
To the Chilean People:
To the International Sixth:
To the Media:
We peoples, nations, and tribes of the National Indigenous Congress send a fraternal greeting of solidarity to Machi Francisca Lincolao Huircapan, of the Mapuche People, in Chile, imprisoned since March 30, 2016. We know that compañera Machi Francisca is on a hunger strike to demand the justice that the bad government of Chile has denied her by keeping her imprisoned for the crime of continuing to defend the natural resources, sacred places, and cultural rights of her people. They are letting her health deteriorate to the point that it threatens the life of the compañera, whose state of health is summarily delicate.
We denounce the fact that while the Chilean government represses Machi Francisca, they blatantly protect transnational capitalists and bosses such as the landlord Alejandro Taldriz, with his illegal logging that the corrupt state works to protect.
The National Indigenous Congress and the EZLN demand:
1. The immediate release of compañera Machi Francisca Lincolao Huircapan.
2. An end to the repression against the dignified Mapuche people and the revocation of the racist and repressive Anti-terrorist Law that is meant to criminalize the territorial defense of the Chilean Originary Peoples.
3. Absolute respect for the Mapuche territory.
January 2017
For the Full Reconstitution of our Peoples
Never again a Mexico without us
NATIONAL INDIGENOUS CONGRESS
ZAPATISTA ARMY OF NATIONAL LIBERATION