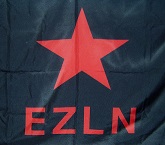 SAMIR LIVES! THE STRUGGLE CONTINUES!
Declaration from the Third National Assembly of the National Indigenous Congress, the Indigenous Governing Council, and the EZLN
To the peoples of the world:
To those organizations and collectives acting in resistance and rebellion:
To the national and international Sixth:
To the media:
As Ayuuk, Binizza, Chinanteco, Chol, Chontal, Guarijío, Maya, Mayo, Mazahua, Mazateco, Mixteco, Nahua, Nayeri, Otomí, Popoluca, Purépecha, Raramuri, Tepehuano, Tlapaneco, Tojolabal, Totonaco, Tzeltal, Tsotsil, Wixárika, Yaqui, Zoque, and Quichua (Ecuador) peoples, we have come together for the Third National Assembly of the National Indigenous Congress and the Indigenous Governing Council. Today, almost 100 years after the assassination of General Emiliano Zapata, we now face the pain and rage brought by the war waged against our peoples and the murder of our compañero Samir, killed for defending the land and his people. As a national assembly, we send our embrace of solidarity and struggle to his family and the community of Amilcingo, Morelos. As the CNI-CIG and the EZLN, for whom compañero Samir will always be a glimmer of light, we send our solidarity and collective embrace.
Samir was killed by the neoliberal regime—we don't know if it was the government, the business class, their criminal cartels, or all three together. The path was laid for this cowardly murder by the new federal executive, Andrés Manuel López Obrador [AMLO], through his offers of support not to those below, but rather to the owners of money and power, while making veiled threats against those of us who defend and fight for life. AMLO has promised to hand over to big business and the military elite what neoliberal capitalism and all of its various bad governments never could: our land. His administration's new Agrarian Development Law aims to dismantle collective organization and collective property forms, deeming as "development" what is actually shameless theft and destruction. This is accompanied by military threats to our peoples via his "National Guard" in what amounts to the total reconfiguration of our country.
What above they call "transformation" has always mean the same thing for our peoples: we give our lives so that powerful and oligarchic interests, fewer and fewer but bigger and bigger, can live off of oppression, exploitation, and destruction. The so-called "Fourth Transformation"[i] follows the same path as the previous three, although more brutally and cynically, if such a thing is possible.
Letter in Japanese
Letter in Turkish
Letter in Italian
Letter in Portuguese
Letter in French
Letter in German
Letter in Spanish
LETTER TO THE ZAPATISTA WOMEN
FROM THE WOMEN WHO STRUGGLE IN MEXICO AND THE WORLD
(signed by 891, Organizations, Collectives, Networks, and Individuals)
To our compañeras Zapatistas
To the women of the world who struggle
To the grandmothers, mothers, sisters, youth and girls
To those who have the heart of a woman
We the undersigned are women of Mexico and the world, convened by the Zapatista women on March 8th, 2018 in the First International Political, Artistic, Cultural and Sports Encounter of Women Who Struggle.
We reaffirm that every one of us committed ourselves to struggle, each one from our own place of origin or new home places, from our distinct cultures and occupations, so that "not one more woman in the world, regardless of color, size, or place of origin, should feel alone or afraid anymore". We committed ourselves to the light that all of you shared with us in our gathering, and to the light that all of you represent to all of us. We keep that light alive in order to be, to walk and to struggle together.
Today we proclaim that we will not allow the bad governments to destroy your worlds and displace you from the territories that provide the roots, heartbeat and direction to your lives and dreams. We will denounce, through multiple venues and modes, the misuse of practices of cultural resistance, staging ancestral people's rituals to justify megaprojects of death and sickness imposed by the patriarchal capitalist system.
Given the conditions of war that we continue to face every day as women, we reaffirm our agreement to "stay alive, and for us to live is to struggle, each one according to her means, her time and her place."
Now is the time to tell the bad governments, past and present, in every corner and place in the world, that we repudiate, from our multiple locations and territories, the practices of concessions, extraction, and the misuse and abuse of our Mother Earth. "Fracking," gas and oil pipelines, massive hydroelectric dams, extensive agro-industrial monocultures of crops and trees, and infrastructure for corporate tourism in indigenous territories, all benefit major commercial projects, at the cost of indigenous and non-indigenous peoples' lives and territories. In the face of profit-seeking interests, we will struggle for Life, for the lives and territories of people and other living beings.
As women, we know the value of life and for this reason we work to build conditions that support life. We declare that yes, we can do this, we women with our collective hearts. You are not alone compañeras zapatistas, friends, and sisters, and neither are your children, families and peoples!
Quotations excerpted from Zapatista Women (2018) Zapatista Women's Opening Address at the First International Gathering of Politics, Art, Sport, and Culture for Women in Struggle. March 8, 2018. Caracol in the Tzots Choj zone. March 26, 2018, Enlace Zapatista:
http://enlacezapatista.ezln.org.mx/2018/03/26/zapatista-womens-opening-address-at-the-first-international-gathering-of-politics-art-sport-and-culture-for-women-in-struggle/