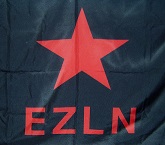 Del cuaderno de apuntes del Gato-Perro:
Rumbo al Puy Ta Cuxlejaltic, el CompArte de Danza y el Segundo Encuentro Internacional de Mujeres que Luchan.
En 1993, hace 26 años, las mujeres zapatistas elaboraron la llamada "Ley Revolucionaria de Mujeres". En uno de sus apartados, señalaban su derecho a estudiar… "y hasta de ser choferas", según narró el finado SupMarcos en una carta pública recordando, hace 25 años, el nacimiento de esa ley y el papel que en su creación tuvieron la finada Comandanta Ramona y la Comandanta Susana. Tal vez en otra ocasión se relate el por qué de esta aspiración de las mujeres indígenas zapatistas. Ahora, en exclusiva, la Comisión Sexta del EZLN presenta a ustedes algunos avances o cortos o trailers de uno de los documentales que L@s Terci@s Compas exhibirán, en funciones Premier, en fecha indefinida. Va pues.
"…Y HASTA DE SER CHOFERAS"
Documental rodado, en todos los sentidos, completamente en las montañas del Sureste Mexicano en el año del 2019. Elaborado, dirigido y producido por mujeres zapatistas, este documental recoge algunas escenas de lo que ha sido la preparación de las compañeras choferas zapatistas. Duración indeterminada. Formato no sé. Clasificación Z (como debe de ser). No se exhibirá en Netflix, ni en Amazon Prime, ni en Tv Apple, ni en HBO, ni en Fox, ni en… ¿cuáles eran las otras?… Bueno, pues ésas. Tampoco en cines. Sólo en los Caracoles Zapatistas… ¿También en el Segundo Encuentro Internacional de Mujeres que Luchan? ¿Así le pongo?… ok, ¿pero no pongo la fecha ni el lugar?… Oh, pues… Es que van a reclamar, que no la hagamos de suspenso… Siquiera den una pista… no, no de manejo, de una idea pues. ¿Diciembre?… ¿de este año?… ¿Hola?… ¿Hola?… ¿Hola?… ¿Muy deprimid@?… Se fueron, pero les diré que no se veían deprimidas… tenían algo en la mirada, una especie de reto, de desafío, de rebeldía, de zapatismo pues. Nota: Ningún varón ha sido maltratado en la producción de este documental…, bueno, sí, pero sólo se ha abollado su ego… Ah, y unos que se cayeron cuando huían de una compañera que se embraveció porque le estaban gritando cosas… No, yo no, yo miraba de lejitos, no me fuera a tocar un garrotazo… ajúa.
Sinopsis versión Apocalíptica: Un virus producido en los laboratorios de los Iluminatti es dispersado en las montañas del Sureste Mexicano. Por alguna extraña razón, sólo afecta a las transgresoras de la ley autodenominadas zapatistas. El virus les lleva a hacer cosas fuera de toda razón y lógica, se rebelan, resisten, y les da por invadir cargos y trabajos que deberían ser exclusivos de los varones. En este documental se recogen evidencias de esta indisciplina, y se ve donde a las zapatistas les da por ser libres y, bueno, no lo va usted a creer, pero hasta de ser choferas, ¿no le digo? Si ya no hay valores, oiga.
Sinopsis versión "No hay final feliz": Un grupo de mujeres indígenas zapatistas se dicen y dicen "ya basta" y se rebelan y quieren ser libres y hasta de ser choferas. Un grupo de intrépidos y valerosos hombres partidistas deciden retarlas y las burlan y amenazan, las conminan a que vuelvan a la cocina y a hacer críos. Las transgresoras de las leyes patriarcales (y de tránsito) se enfrentan a ellos. Pierden los varones, ganan las mujeres. Sí pues, ni modos, por eso digo que no hay final feliz.
Sinopsis versión "Se siguieron" (de una entrevista inédita con un chofer maestro de choferología): Bueno, de ahí que los maestros dijeron que sólo iban a enseñar a manejar las móviles que llaman "estaquitas" porque son las que más se usan en los pueblos, pero las compañeras que no, que cómo, y dale que también la mecánica. Ni modos, pues entonces la mecánica. Hasta ahí pues normal. Pero el borlote se hizo cuando dijeron que también el Guardián y la Guardiana, que son dos camiones de 6 toneladas. "Camionzote", le dicen las compañeras. Ahí sí, como decía el finado, pues se chingó la señora roma ésa, porque resulta que los de 6 toneladas pues no cualquiera. Que sea que hasta mismos choferes hombres le sacan a manejar más de 3 toneladas, porque no es juguete pues. Entonces pues pensamos que bueno, que basta con que aprendan a arrancar. Pero nada, qué va a ser, se siguieron y hasta le dieron mantenimiento a los camiones. No, qué va a ser que se conforman. Ahora quieren aprender a manejar camión trocero, de ésos que llevan los troncos de árboles. ¿Dónde vamos a conseguir un trocero? Ni en sueños pues. Además, ¿y si luego quieren aprender a manejar torton o tráiler? (…) Ah, sí sirve, porque hay que estar acarreando materiales para los caracoles. Dicen que ahí van a hacer el festival de cine y las compañeras van a hacer su encuentro con las otras mujeres. Y dicen que un CompArte especial de danza, que sea de bailables y esas cosas. No, yo sólo sé bailar la del moño colorado, pero eso de que brincan como venado o se cuelgan de unas como telas, pues olvídate. Y luego hasta como que te cuentan una historia, pero con pura bailadera. No, zapateado tampoco sé, sólo sé pero en el lodo, y eso cuando se poncha la llanta y ni modos, qué vas a hacer, a zapatearle. Sí, ahí andaban las Tercias, que están haciendo una película de las choferas, y de ahí que dijeron las Tercias que quieren que se hagan chistosadas, que sea que bromas, como quien dice, que si no, pues la película sale muy triste y la rebeldía pues es alegre, dicen. Entonces hay que hacer como que chocan y esas cosas. ¿Eh? Ah no, lo de la compañera que nos avienta el carro a los hombres no estaba planeado, creo que la compañera pues se pensó que mucho la burlan y dale, que nos avienta el carro. Todos corrimos, pero no por el carro, sino que lo miramos su ojo la compañera chofera, que sea que se miraba que estaba brava, pero lo raro es que se sonreía. Muy otras las compañeras.
Sinopsis versión "pinches hombres": Ah, bueno, arresulta que en este segundo curso, las compañeras nos dijeron que, en sus pueblos, cuando practican con el carro de la comunidad, a veces los partidistas les gritan cosas y las burlan. Y entonces nos dijeron que los maestros de choferólogas vamos a hacer como los partidistas, que sea que les gritemos cosas y las burlemos. Sí, para entrenarse también de eso. O sea que estábamos como quien dice actuando, así nos explicaron la Teresa y el Cochiloco.
(Nota: el de la voz se refiere a la actriz Dolores Heredia y al actor Joaquín Cosío, por sus papeles en Capadocia y El Infierno, respectivamente. L@s zapatistas se refieren a quienes actúan en cine por alguno de sus personajes, no por sus nombres reales. En el primer festival de cine, en noviembre del 2018, la Teresa y el Cochiloco se dieron el tiempo y el modo para, por separado cada quien, platicar en privado con las insurgentas e insurgentes, mientras se atascaban de tamales de tuluc. Respondieron todo lo que les preguntaron. Lo que se hablaron con la Teresa de como mujeres que somos, sólo ellas lo saben. Por cierto, se acabaron los tamales, no me dejaron ni uno. Fin de la nota).
Entonces nos platicaron de cómo es que se hace la actuación, que sea que nos explicaron que la actuación es que no es real pero tienes que hacer como que es de adeveras, real pues. Entonces pues así hicimos. Unos compas hasta se hacen como de bolos, que sea como borrachos, pero es por la actuadera. Ah, pero cuando se baja la compañera con el garrote, ahí sí nada de qué actuación ni qué nada, a correr, porque qué tal que la compañera se olvida que no es real y que somos compañeros y nos da, pues. Yo les dije que con un cartón o una revista así doblada, pero qué va a ser, agarraron un tubo de fierro. Y ése duele. ¿Eh? Pues yo vi que están contentas porque se dieron cuenta de que sí pueden. Ya no es de palabra, sino que en la práctica lo demostraron. Ahora el problema va a ser en sus poblados. Imagínate que llega la mercancía y el camión lo maneja una mujer, ¡de una vez! Los partidistas se van a quedar callados, y las compañeras les van a gritar "¡pinches hombres!". ¿Eh? No, nosotros somos compañeros, los otros son los pinches hombres. No es lo mismo, pues.
Sinopsis versión "Filtración": Oyes, no lo vayas a escribir, pero luego los compañeros maestros estábamos con pena, porque se hizo la práctica de cambiar el filtro. Y una compañera con todo y su nagua lo hizo en un ratito. Luego los maestros fuimos a cambiar el filtro de un camión que es de la Junta. Mta magre, éramos 6, media hora y no podíamos. Ya le íbamos a pedir apoyo a las compañeras. Suerte que sí pudimos, si no, pues la pena. Y peor si eso sale en la película ésa que están haciendo las Tercias.
-*-
-*-
Algunas reseñas en la prensa experta:
"Ni modos, perdimos los machitos, again. Pero volveremos, aunque cada vez seamos menos. Si ayer éramos miles, hoy somos un menguado contingente tratando de evitar lo inevitable." El SupMarcos (desde 3 metros bajo tierra), en la sección de cultura de la revista inédita "El Pozol Agrio".
"No todo está perdido. Todavía tenemos la esperanza de que las compañeras Tercias no terminen de armar el documental a tiempo para el segundo festival Puy Ta Cuxlejaltic. ¡¿Qué dirían Pedro Infante y José Alfredo Jiménez?!, y ya no se diga el difunto SupMarcos. Qué pena y qué bochorno, haiga cosa". El SupGaleano en la sección "¡Palomeros del Mundo, Uníos!" de la exclusiva revista, especializada en cine, "Esa película ya la vi".
Doy fe.
El Gato-Perro al volante… ¿cuál era el freno y el acelerador?… ¡Ups!… Órales, a correr.
Tiempo después…
La insurgenta Erika: "Compañero Subcomandante Insurgente Moisés, avisan de la Junta que se chocaron el Guardián y la Guardiana, y que no se sabe quién los chocó una con el otro, que sea que la Guardiana lo chocó al Guardián y lo abolló la defensa".
El SupMoy: "¿Dónde está el SupGaleano?"
La Erika: "Se salieron corriendo con el Gato-Perro. Yo creo que fueron ellos porque lo miré en su ojo que tienen delito".
Y mientras tanto, en lo alto de la Ceiba…
El SupGaleano al Gato-Perro: "Te dije que primero pusieras en neutral. Ahora nomás falta que llueva y entonces sí".
El Gato-Perro al SupGaleano: "Guau, miau, grrrr".
Y empezó a llover, fuerte, como si las nubes le gritaran a la tierra:
¡Despierta!
Son las montañas del Sureste Mexicano, es Chiapas, es México, es Latinoamérica, es el mundo, es septiembre del 2019 y, sí, llueve.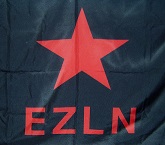 Images from the Breaking of the Siege II (and last)
From August 17, 2019.
Note from SupGaleano: Here there should be a photo slide show from the new CRAREZ [Centers of Autonomous Zapatista Resistance and Rebellion] which were announced as part of the breaking of the siege on August 17, 2019. This video will likely be removed by Mr. YouTube since it is set to a song by Ana Tijoux (Chilean-French) and Shadia Mansour (Palestinian) entitled "Somos Sur," [We are the South] and supposedly we either have to pay royalties or accept advertising. We are not of course going to accept advertising, and if there's no money for water tanks for the new caracol Tulan Kaw, then there's certainly no money to pay royalties. In any case, the Sixth Commission does not "monetize" our videos (plus, the traffic on our channel is like the traffic during semana santa (Easter) in Mexico City), so I doubt Mr. YouTube is going to end up any less rich because of our refusal to accept advertisement, nor are Ana Tijoux and Shadia Mansour going to lose artistic quality or followers because we have accompanied their rebellion with ours.
Maybe instead of taking down the videos that people set to music—as Zapata didn't say, "music belongs to those who sing/dance/hum/bounce/whisper/shout and spread it (and like Shadia Mansour says, rapping in Arabic: "music is the mother tongue of the world")—Mr. YouTube should work on his damned algorithm ("Oh, the twisted lines of YouTube"i). You know how it goes, you start out looking for videos of the guys from Botellita de Jerez to pay homage to the memory of Armando Vega Gil, or you search for ska from Los de Abajo, or Salón Victoria, or some tracks from Jijos del Mais, or Van T, or Mexican Sound, or LenguaAlerta, or Lirica, or Ely Guerra, or Keny Arkana, or the Batallones Femeninos, or from those masters Oscar Chávez and Guillermo Velázquez and Los Leones de la Sierra de Xichú, and all of a sudden you're getting bombarded with videos of rodeos, cockfights, Maluma giving classes on how to respect women, or makeup videos ("now we're going to learn how to do makeup for a 'no makeup' selfie").
It's not that we're being fussy—after all, like Inodoro Pereyra said (or was it Mendieta?), "Broad and Alien is the World"ii—but rather that here, bandwidth is about as broad as Trump's IQ: paltry, in other words.
Given all of the above, if YouTube removes the video because of its soundtrack (like it already did with Princess Mononoke, apparently because Studio Ghibli decided to side with the system instead of with natureiii), we'll repost the same photo slideshow here but without music, and you can add the music yourselves. In fact, I'll include the translation from Arabic to Spanish of Shadia Mansour's rap (based on the contribution from the user qmqz posted on the official music video) [TN: translated here in English]:
"Give me the mic:
Music is the mother tongue of the world
It supports our existence and protects our roots, tying us to greater Syria, Africa, and Latin America
Here I stand with Anita Tijoux
Here I stand with those who suffer, not with those who sold us out
Here I stand with culture, resistance
From the beginning and forever, hasta la victoria siempre!
I am with those who are against, with those who have cooperated, with those not on our side
Way back I did the math and I decided to invest in Banksy after Ban-Ki went bankrupt (Note from SupGaleano: possibly a reference to Ban-Ki Moon, who was Secretary General of the United Nations when this song was recorded, and went "bankrupt" when he refused to condemn the Israeli government's terrorist actions against the Palestinian people).
As the saying goes, "it's not that the situation needs a 'proportionate response', the situation needs to be stopped"
For every freed political prisoner an Israeli settlement grows
For every civil greeting a thousand homes are destroyed
They use the press to their benefit
But while my sorrow is vetoed, reality insists"
You know what? With or without YouTube, with or without advertising, the Palestinian people and the Mapuche people will achieve freedom. Ten, one hundred, a thousand times they will reach victory.
And if Mr. YouTube takes the whole thing down as part of the "fuck the Zapatistas now" campaign, oh well, we'll just go back to the good old days of the Zapatista Intergalactic Television System, "the only television channel that you read" (Permit 69, currently being processed by the Good Government Councils, submitted as of 1996 but caracoles move slooooooooowly….).
From the mountains of the Mexican Southeast.
Los Tercios Compas
EZLN Sixth Commission
September 2019
---
i "Los renglones torcidos de Dios" (The Twisted Lines of God) is a novel by Torcuato Luca de Tena.
ii "El mundo es ancho y ajeno," a 1941 novel by Ciro Alegría narrating indigenous struggle in the Peruvian highlands against land-hungry interests. Inodoro Pereyra is an Argentinian cartoon created by Roberto Fontanarrosa that parodies folklorism through the story of a lonely Argentinean gaucho and his co-protagonist, a talking dog, Mendieta.
iii Princess Mononoke is a Japanese animated period drama written and directed by Hayao Miyazaki and animated by Studio Ghibli which narrates an epic and fantastical struggle between the supernatural guardians or gods of a forest and the humans who consume its resources.