World
43 cities, 43 students
In the United States We're Tired Too
This December 3, 2014, more than 43 cities in the US will mobilize in solidarity with the 43 students dissappeared and 3 murdered from the Escuela Normal Rural de Ayotzinapa. The mobilization aims not only at expressing support and solidarity with the students from Ayotzinapa and their families and denouncing the Mexican state's responsibility. The goal is also to demand the US government to stop the Plan Mexico or Merida Initiative, which has supplied billions of dollars in military and political support to Mexico's security forces. For more information, visit www.ustired2.com and in facebook, twitter, instagram, and tumblr; using and followint the hashtag #UStired2.
Los desaparecidos de Ayotzinapa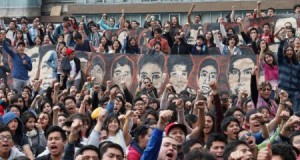 (Descarga aquí)
Read in Spanish here:
En México, los fuegos arden, tanto literal como metafóricamente. Esto pasa porque miles de jóvenes sienten una acalorada indignación contra su corrupto gobierno, cómo se demostró en la resistencia que incluye la quema de edificios del gobierno el 13 de octubre en Chilpancingo, la capital del estado de Guerrero, México
¿Por qué les prendieron fuego? Los manifestantes estaban marcando el plazo no cumplido para que los oficiales del gobierno presentaran con vida a 43 estudiantes detenidos y desaparecidos por un grupo de policías corruptos.