Video
La cárcel no sólo castiga a quien la habita, también dentro de su perverso mecanismo de dolor hay madres, esposas, hijas, hermanas que tienen que ver como toda la vida que conocián hasta ese momento cambia de manera drástica para luchar y acompañar la vida de un ser querido privado de libertad.
Ésta es la historia de la madre y la hermana de uno de los compañeros que el 15 de marzo pasado decidió emprender una huelga de hambre, junto con 5 compañeros más, en la lucha por su libertad. Es también la historia de su propia lucha desde fuera de los muros en contra de la injustica del encierro. Una historia de fuerza y de dignidad que rompe con el estigma de la prisión y con el papel de víctima que la sociedad espera para una mujer presa. O para las familiares, principalmente mujeres, de una persona presa.
Fortaleza, coraje dignidad y valentía contra los grises muros de las prisiones.
Comparte y difunde!
#DíaDeLasMadres #Chiapas #presos #presosenlucha
Pagina: www.noestamostodxs.tk
Facebook: www.facebook.com/GTNoEstamosTodxs
Twitter: www.twitter.com/NoEstamosTodxs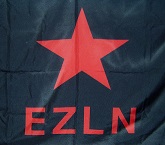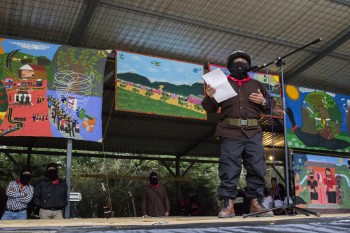 THE ART THAT IS NEITHER SEEN NOR HEARD.
(Note: the following are the comments made by Subcomandante Insurgente Moisés to mark the conclusion of the Zapatista's contribution to the CompArte, in the Caracol of Oventik, on July 29, 2016. The threat of rain and the pressure of time did not allow for the compañero to fully develop some of his points and there were others that he was unable to touch on at all. Here we present the original version that he was going to give. In his voice, our Zapatista word).
THE ZAPATISTA ARMY FOR NATIONAL LIBERATION
MEXICO.
July 29, 2016.
Artists of Mexico and the world:
Sisters, brothers, and hermanoas:
For us, Zapatistas, art is studied by creating many imaginations, reading the gaze, studying in listening, and practicing.
It is by putting it into practice, that is, by doing it, that you will begin to see the result of the science and the art of imagination – the art of creativity.
There is some science and art that is needed immediately, the kind that helps us imagine how to do it.
There can be medium term science and art, and there is long term science and art that improves over the course of time.
For example: To even make something tiny that will contribute to the new world requires that we involve ourselves profoundly in the science and art of imagination, in the gaze, in listening and in creativity, patience, and attention. It requires that we think about how to move forward while building and many other things that must be taken into account.
Because what we want, or what we think about, is a new world, a new system. We don't want a copy of what we have, we don't want to improve it a little bit. This is a problem, we say, because there is no book or manual that explains how to create this new world. This book or manual hasn't been written yet, it is still in the heads of those with imagination, in the eyes that are ready to gaze at the new world that they want to see, in the ears that are attentive in order to hear the new world that they want.