Mujeres que luchan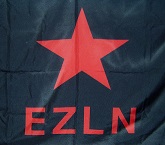 Source: Enlace Zapatista
ZAPATISTA ARMY FOR NATIONAL LIBERATION
MEXICO
INVITATION TO THE SECOND INTERNATIONAL GATHERING OF WOMEN WHO STRUGGLE
September 2019
To women who struggle all over the world:
Sister, compañera, woman in struggle:
We send you greetings, from the indigenous and Zapatista women that we are.
Perhaps you remember that at our First Gathering, we made an agreement that we must live. We see of course that the killing and disappearance of women continues—of women of all ages and social positions. We are killed and disappeared because we are women, and then told it is our fault, that these things happen because of how we were dressed, because of where we were walking, because we were out at certain hours in certain places. Both men and women in the bad government utter such stupidities to imply that we shouldn't go out at all. According to this mindset, women should be shut up in their homes; they shouldn't go out, shouldn't study, shouldn't work, shouldn't enjoy themselves, shouldn't be free.
We see clearly that the capitalist and patriarchal system is like a judge that has declared us guilty of being born women and sentenced us to violence, death, or disappearance.
It's hard to put it into words, sister and compañeras, it's like an evil so great that it can't be named. Now they call it "femicide" or whatever but the name doesn't change anything, the deaths and disappearances continue to accumulate. And then our families, friends, and acquaintances have to fight so that we are not effectively killed and disappeared all over again when our murderers go unpunished, or when it is said that we were merely victims of bad luck; or worse, that we were asking for it.

Reunidas 625 mujeres indígenas y mestizas del campo y de la ciudad de los pueblos originarios Afromexicano, Binizzá, Chinanteco, Chol, Coca, Mazahua, Mazateco, Mepha, Mixe, Mixteco, Nahua, Nuntaj+yi (popoluca), Ñusavi, Otomí, Popoloca, Purépecha, Rarámuri, Tarahumara, Tepehua, Tojolabal, Triqui, Tzotzil, Tzeltal y Yaqui de los estados de Veracruz, Campeche, Ciudad de México, Chiapas, Estado de México, Guerrero, Hidalgo, Guanajuato, Querétaro, Oaxaca, Yucatán, Nuevo León, Coahuila, Baja California Norte, Baja California Sur, Colima, Quintana Roo, Tabasco, Tamaulipas, Sonora, Jalisco, Michoacán, Puebla, Morelos, Aguascalientes, Chihuahua y San Luis Potosí.
Compañeras de Argentina, España, Estados Unidos, Francia, Chile, Grecia, Canadá, Colombia, Ecuador, Brasil, Alemania e Italia.
Integrantes de 119 organizaciones y colectivos nacionales e internacionales.
Estamos contentas con la presencia de todas nosotras, agradecemos el saludo de las compañeras kurdas y les decimos que hoy más que nunca necesitamos unir nuestras voces y luchas en todos los rincones del mundo para defender la vida amenazada por esta sistema capitalista – patriarcal; a las madres de los desaparecidos les decimos que nos quedamos sin palabras ante el dolor de sus miradas y sentimos su dolor como nuestro, que no están solas y que también nos faltan sus hijas e hijos, a las compañeras de Black Live Matters de California retomamos su consigna y reafirmamos que sin justicia no habrá paz. A nuestras hermanas y hermanos de Honduras y Centroamérica sabemos que la necesidad de migrar es resultado del despojo y la violencia que han vivido durante décadas producto de las políticas neoliberales por lo que les decimos que su lucha por defender la vida es legitima y necesaria en su territorio y que también migrar es un derecho por lo que repudiamos las acciones que el actual gobierno mexicano esta haciendo en contra de los migrantes en nuestro país.
En estos dos días mujeres de diferentes latitudes, geografías y edades nos encontramos para reír, llorar, soñar y dialogar; estamos convencidas que nuestra resistencia como mujeres que somos es importante y decisiva porque buscamos la conservación de la vida ante la guerra de exterminio declarada a los pueblos del mundo por el capitalismo y el poder patriarcal.
De acuerdo a los objetivos planteados en la convocatoria, nuestros trabajos durante este encuentro giraron en torno a las preguntas ¿cómo podemos responder a la violencia desde una visión antipatriarcal y anticapitalista, construyendo vida ante tanta muerte? y ¿cómo construimos desde nuestras realidades y nuestras herramientas un tejido común que nos permita fortalecer la organización en y entre nosotras, nuestros pueblos, colectivos, barrios y organizaciones?.
Además realizamos un intercambio de saberes, practicas y visiones a través de una jornada de talleres en los que la construcción del conocimiento colectivo nos dio mas herramientas para continuar nuestras luchas y nuestro tejido común.
Es así que llegamos a los siguientes acuerdos: