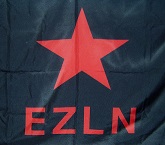 Source: Enlace Zapatista
After 17
(The Miliciana Ixchel-Ramona Division)
September 2021
La Extemporánea [1] includes a division of milicianas [female members of the Zapatista civilian militia or reserves]. Apart from being one of the "Listen and Share our Word" groups, they will be in charge of security during the flight and will play one or more soccer matches with women's teams on the European continent.
One hundred ninety-six milicianas signed up to travel. About twenty were less than 18 years old, so they prepared for the later journeys to the continents of Asia, Oceania, Africa, and America, expecting to be of age by then and able to obtain a passport.
The difficulties with getting their papers (they're all extemporaneous) and the never-ending runaround at the whim of the government "officials" forced many to abandon the effort. Some are single mothers who have to work to provide for their children. The majority work to support their mothers and younger siblings. Training was also a problem, because it turns out it wasn't a walk in the park, but rather required preparation for "Listen and Share our Word" work. What was most difficult for them was learning to listen.
Thirty-seven remained. Plus two minors: Defensa (15 years old) and Esperanza (12). So in all there are 39 milicianas. They have been quartered at the Seedbed for three months, practicing, learning, rehearsing, and waiting for the chance to travel: a place to arrive to in Europe. All are of Mayan origin and speak Tzeltal, Tzotzil, Cho´ol, Tojolabal and Castilla [Spanish]. A few are over 25; the majority are between 18 and 21. Their soccer skills are a State secret, but their willingness to struggle is obvious.
No adult male could enter their barracks without permission. If some lost dude entered, he was immediately surrounded by a group of milicianas and "encouraged" to leave at once with solid arguments from batons and slingshots.
The first days of their preparation and adaptation were difficult. The days to follow were even harder. Far from their families, partners, and familiar foods of their villages, they had to endure uncertainty, hunger, sickness, a new climate, the confusion of living with others who are different, the surprise of learning new things, and the astonishment of seeing they could do things they didn't know they could. For example: listening. And pardon me for insisting again and again about listening, but I look outside and hear the whole world trying to talk – or rather, shout – and find no one, or almost no one, with the willingness to listen.
These combatant compañeras have left behind their first 17 years of life, whether they marked that year on their calendar recently or long ago. There is no doubting their identity: they are ZAPATISTAS.
-*-
As It Turns Out, No
A miliciana speaks during the General Assembly of the Extemporánea, during the evaluation of what was and was not achieved during the "Listen and Share our Word" preparatory course:
"I didn't know about anything that you all have described. I thought that it had always been this way, that I could go to school, have a boyfriend without the obligation to get married, that I could get married if I wanted or not get married if I didn't, that I could dress how I wanted, that I could participate, learn and teach. I thought it had always been like it is now, where we have rights and not just responsibilities. But now I've heard what the compañera said about what life was like in the time of the finqueros [plantation owners]. I heard what it took to prepare to struggle. I heard what it took to go to war. I heard how autonomy was built. So I think I have to get ready to defend what we have built so that those times never return. I thought that's just how it was, that women were born into freedom. But it turns out that, no, they had to fight, they have to keep fighting. So there's no rest."
Basilea, Suiza. 30 de agosto 2021. Un Campamento por la Vida y una marcha de protesta tuvieron lugar este fin de semana con la participación activa de la delegación marítima del EZLN y alrededor de quinientos activistas anticapitalistas, antipatriarcales, antifascistas, anticoloniales e internacionalistas quienes luchan en Suiza y Europa, siendo hablantes del suizo alemán, el español, el francés y el italiano entre otras lenguas como el kurdo, el turco y el árabe. Mientras el Escuadrón 421 visitaba cooperativas agroecológicas cerca de Ginebra y el lago Leman, cerca de cincuenta personas surgieron y armaron un gran campamento el jueves 26 de agosto en un parque de la ciudad fronteriza de Basilea (Basel, Bâle) en Suiza, a un lado del río Rin que divide Francia y Alemania de la Confederación Helvética, sede de empresas multinacionales como Novartis y Nestlé, así como de innumerables bancos y marcas de lujo. En suizo alemán, inglés y español, un letrero cerca de la tienda de información, entre la cocina y el templete, da la bienvenida en el campamento zapatista:
"Hemos tomado este espacio para llamar la atención sobre diferentes formas de resistencia, de autonomía, de vivir de forma diferente. Tenga en cuenta que queremos crear aquí un espacio libre de discriminación, donde todes se sientan cómodes y segures. ¡Creemos un mundo diferente aquí y ahora!"