democracy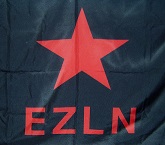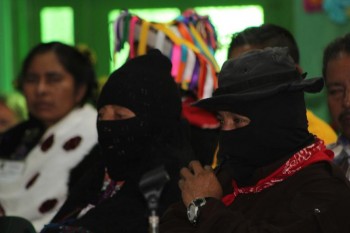 It Is not a Single Person's Decision
November 2016
For the [l@s] racists:
Well, we've been reading and listening to everything you've been saying and writing.
We've seen all of your mockery, your scorn, the racism that you can no longer hide.
I believe that the compañeros and especially the compañeras of the National Indigenous Congress [CNI] are also reading and listening to what you say.
It's clear that the CNI was right about what they thought and what they told us, that there is a lot of racism in society.
I imagine you amuse and applaud each other over what a good joke you made with your leftist mockery about the EZLN's "candigata."[i]
You celebrate your machismo making fun of indigenous women.
You say that we 'fucking Indians' let ourselves be manipulated, are unable to think for ourselves, and go like sheep wherever the shepherd points.
But I think when you say this you are actually looking in the mirror.

"Actuar es fácil, pensar es difícil y actuar según se piensa, terriblemente incómodo", decía Goethe. Del exministro de finanzas griego y colaborador habitual de SinPermiso, Yanis Varoufakis, pueden decirse muchas cosas. También que es un raro representante en nuestros días del tipo humano retratado por aquella máxima tan característicamente emblemática de los grandes valores de la Ilustración.

Sin permiso

Alexis Tsipras ha arrancado una victoria resonante de las fauces de la humillante rendición de julio ante la Troika de los prestamistas de Grecia. Desafiando a los partidos de la oposición, a las encuestas de opinión y a los críticos presentes en sus propias filas (entre ellos, quien esto escribe), se ciñó a un gobierno con una mayoría reducida, aunque manejable. La pregunta es si puede combinar seguir al frente del gobierno con estar en el poder.
Los mayores perdedores fueron los partidos menores que ocupan los extremos del debate que siguió al referéndum. La Unidad Popular fracasó de modo increíble a la hora de explotar la aflicción que sintió una mayoría de los votantes del "No" después del giro radical que dio Tsipras en favor de un acuerdo que recortaba aún más la soberanía nacional y que incrementaba los niveles ya despiadados de austeridad. Potami, partido que se ubica a modo de niña bonita reformista de la Troika, tampoco logró reunir el voto, más reducido, del "Sí". Con un victorioso Tsipras ahora firmemente al timón con el programa de la Troika, los partidos pro-Troika de última moda no tenían nada que ofrecer.
La gran ganadora es la Troika misma. A lo largo de los últimos cinco años, las proyectos de ley firmados por la Troika se aprobaron en el Parlamento con mayorías absolutamente exiguas, lo que dejó noches sin dormir a sus responsables. Hoy, los proyectos necesarios para apuntalar el tercer rescate pasarán con cómodas mayorías, pues Syriza está comprometida con ellos. Casi todos los diputados de la oposición (con excepción de los comunistas del KKE y los Nazis de Amanecer Dorado) se encuentran también de acuerdo.