comunidades zapatistas
Altamirano, Chiapas. 9 de agosto. La sonrisa de los abuel@s, la reflexión de las mujeres, las miradas llenas de curiosidad de los niñ@s, son imágenes que sobresalen en el Festival CompArte Zapatista 2018. "Nuestros caracoles floreciendo están", "Nuestra lucha no va a terminar", "democracia, justicia y libertad", se escucha en las melodías que interpretan las y los indígenas chiapanecos en este también XV aniversario en el cual celebran su decisión de organizarse en Los Caracoles y las Juntas de Buen Gobierno (JBG).
Desde el Caracol de "Morelia", con canciones y obras de teatro situaciones cotidianas son recreadas por niños, jóvenes y adultos Bases de Apoyo Zapatistas, para ejemplificar lo que viven las familias que han decidido estar en "resistencia y rebeldía".
Los programas asistencialistas del gobierno federal y estatal son una constante en las dramatizaciones de los rebeldes chiapanecos, sobre como el Estado "desmoviliza la resistencia". Frente al hostigamiento gubernamental las y los indígenas chiapanecos han respondido con organización y propuestas en rubros que van desde la salud, la educación, la justicia, la alimentación, la seguridad, entre otros.
De manera lúdica y profunda, las y los zapatistas exponen en sus obras teatrales problemáticas en las que se ven refleja@s niñ@s, adolecentes, jóven@s, mujeres, ancianos y hombres de la comunidad. Tales situaciones tienen que ver con el consumismo y su repercusión en problemas de salud, económicos, sociales y culturales.
En una de las actuaciones en el CompArte 2018, se escenifica claramente la línea que sigue el sistema capitalista al afectar a las comunidades: la mala alimentación enferma a la población, la cual tiene que solicitar atención médica costosa, lo que lleva a mujeres y hombres a vender sus pocas propiedades y hasta la tierra para saldar sus deudas. En la otra cara que muestran los indígenas en resistencia en sus escenificaciones, la salud es para toda la población y no se necesita grandes sumas para ser atendidos en sus clínicas y hospitales autónomos. Y también se convoca a trabajos colectivos para apoyar al enferm@.
La historia también se hace presente dentro del CompArte Zapatista, y son abordados pasajes desde la Revolución hasta las pasadas elecciones presidenciales del mes de julio. Problemas sociales como el desempleo, la explotación, la represión, la criminalización de la protesta social, se exponen en el encuentro de las y los indígenas chiapanecos con asistentes nacionales e internacionales.
En el mensaje principal de la Comandancia del EZLN, participan l@s niñ@s: Amado, Defensa Zapatistas junto con el Gato Perro, Esperanza Zapatista junto con su Oso, y Pablito. En la mesa también se encuentran los Subcomandantes Moisés y Galeano, así como el mando de la zona, el Comandante Zebedeo. El sub Galeano ejemplifica el proceso actual del zapatismo con el cuento: "La última mantecada en el sureste mexicano" (AUDIO).
"Cuidar la esperanza zapatista", es el mensaje que enfatizó el EZLN, ante Comandant@s y miles de Bases de Apoyo Zapatistas, así como asistentes nacionales e internacionales. Los rebeldes chiapanecos indicaron que si sus "sueños y aspiraciones", no caben en un mundo, crearán otro. "El mundo no es uno solo", enfatizaron y añadieron que no se puede seguir un solo esquema o concepto. El mensaje principal a los "capataces (gobiernos capitalistas) pasados, presentes y futuros", al final de la participación de los insurgentes, fue la mano en forma de caracol.
INFORMACIÓN RELACIONADA: https://www.facebook.com/EnlaceZap/
El problema con el zapatismo, dice el Sup Galeano, es que "si sus sueños y aspiraciones no caben en un mundo, imaginan otro nuevo y sorprenden con sus empeños por lograrlo" (AUDIO).
Tejiendo organización en colectivo – Encuentro de redes en apoyo al CIG
Texto, imágenes y audios tomados de Radio Pozol.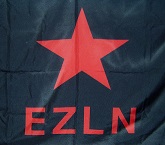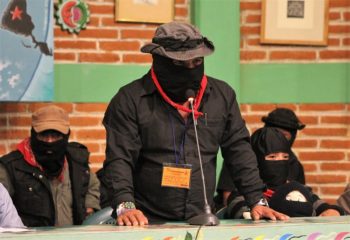 Subcomandante Insurgente Moisés
Zapatista Army of National Liberation
Mexico
To the People of Mexico:
To the People and Governments of the World:
To the Free, Alternative, Autonomous, or whatever they're called Media:
To the National and International Sixth:
To the National Indigenous Congress and the Indigenous Governing Council:
To the National and International Press:
July 17th, 2018.
Since yesterday and during today, media has been running a story backed by declarations of Mister Alejandro Solalinde (who presents himself as a presbyter, priest, clergyman or however its said, christian, catholic, Roman Apostolic), of a supposed approach between EZLN and Mister Andrés Manuel López Obrador and that "the EZLN already agreed to have a first dialogue" (textual words by Mister Solalinde).
About this lie EZLN declares:
First: The CCRI-CG of EZLN, the political, organizational and military directorate of EZLN, hasn't agreed to a first dialogue with anyone. As its well know by whoever has the minimum knowledge of EZLN and its ways, a matter like this would have been made public well in advance.
Second: EZLN hasn't received from Mister Solalinde anything but lies, insults, libel and racist and sexist comments, by assuming just like it was done during the days of Salinismo and Zedillismo, that we are poor ignorant indigenous manipulated by the -quoting his own words- "Caxlanes who administer Zapatismo" that don't allow us to look down and kneel to the mister whose Solalinde considers the new savior.
Third: We understand Solalinde's need to be on the spotlight and his demand for our submissiveness, but he is wrong about EZLN's Zapatismo. Not only he is wrong about that. We don't know much about it, but it seems like one of the church commandments to whom Mister Solalinde supposedly serves, which goes: "Thou shalt not bear false witness against thy neighbour, and you won't lie".