Comunicados EZLN

ELLOS Y NOSOTROS.
VII.- L@s más pequeñ@s 3.
3.- Las Compañeras.  El muy largo camino de las zapatistas.
Febrero del 2013.
NOTA: A continuación unos fragmentos de la compartición de las mujeres zapatistas, mismos que forman parte del cuaderno de texto "Participación de las mujeres en el gobierno autónomo".  En estos fragmentos, las compañeras hablan de cómo ven su propia historia de lucha como mujeres y, de paso, derrumban algunas de las ideas sexistas, racistas y antizapatistas que, en todo el espectro político, hay sobre las mujeres, sobre las indígenas y sobre las zapatistas.
-*-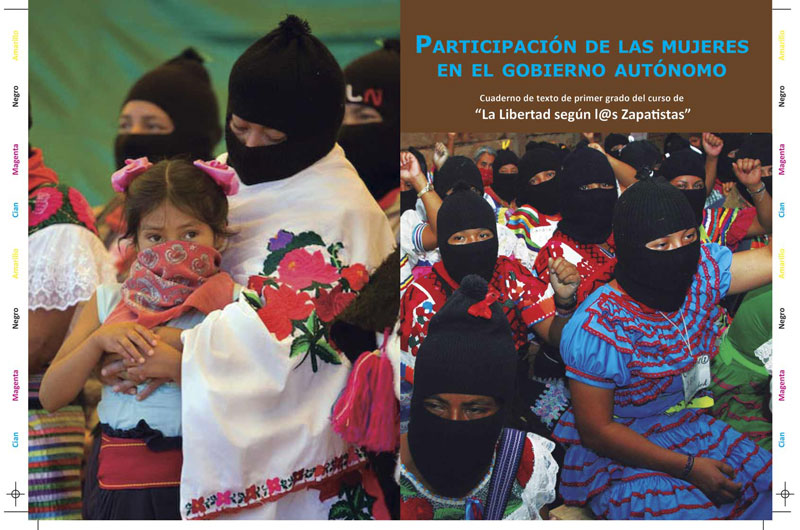 -*-
Buenos días a todas, a todos.  Mi nombre es Guadalupe, mi pueblo es Galilea de la región Monterrey, como ustedes escucharon, hay regiones que no tienen municipio autónomo, yo vengo de una región donde no hay municipio autónomo.  Mi cargo es promotora de educación y represento al Caracol II "Resistencia y rebeldía por la humanidad", de la zona Altos de Chiapas. Para empezar voy a presentar a ustedes una pequeña introducción para que podamos entrar en el tema.
Sabemos que desde el inicio de la vida las mujeres tenían un papel muy importante en la sociedad, en los pueblos, en las tribus.  Las mujeres no vivían como vivimos ahora, eran respetadas, eran las más importantes para la conservación de la familia, eran respetadas porque dan la vida así como nosotros respetamos ahora a la madre tierra que nos da la vida.  En ese tiempo la mujer tenía un papel tan importante pero con la historia y con la llegada de la propiedad privada eso se fue cambiando.
La mujer al llegar la propiedad privada fue relegada, pasó a otro plano y llegó lo que llamamos el "patriarcado" con el despojo de sus derechos de las mujeres, con el despojo de la tierra.  Entonces fue con la llegada de la propiedad privada que empezaron a mandar los hombres.  Sabemos que con esta llegada de la propiedad privada se dieron tres grandes males, que es la explotación de todos, hombres y mujeres, pero más de las mujeres, como mujeres también somos explotadas por este sistema neoliberal.  También sabemos que con esto llegó la opresión de los hombres hacia las mujeres por ser mujeres y también sufrimos como mujeres en este tiempo la discriminación por ser indígenas.  Entonces tenemos estos tres grandes males, hay otros pero ahorita no estamos hablando de eso.
Nosotros dentro de la organización, con tanta falta de derechos como mujeres, se vio necesario luchar por la igualdad de derechos entre hombres y mujeres, fue así como se dictó nuestra Ley Revolucionaria de Mujeres.  Sabemos que nosotros aquí en la Zona Altos tal vez no hemos tenido grandes avances, han sido avances pequeños, son lentos pero vamos avanzando, compañeras y compañeros.
Aquí vamos a decir en la Zona Altos cómo es que hemos avanzado con los diferentes niveles, en las diferentes áreas, en los diferentes lugares donde nos toca trabajar. También vamos a decir cómo en la ley revolucionaria hemos visto, hemos analizado, antes de venir aquí, entre hombres y mujeres analizamos cómo estamos en cada uno de estos puntos de la Ley Revolucionaria de las Mujeres, eso es lo que vamos a decir. Porque es muy importante que en este análisis no sólo participemos las mujeres, también necesitan participar los hombres, para escuchar lo que pensamos, lo que decimos. Porque si estamos hablando de una lucha revolucionaria, una lucha revolucionaria no la hacemos sólo los hombres ni sólo las mujeres, es tarea de todos, es tarea del pueblo y como pueblo habemos niños, niñas, hombres, mujeres, jóvenes, jóvenas, adultos, adultas, ancianos y ancianas. Todos tenemos un lugar en esta lucha y por eso todos debemos participar en este análisis y en las tareas que tenemos pendientes.
(…)
-*-
(…)
Compañeros, compañeras, mi nombre es Eloísa, del pueblo Alemania, municipio San Pedro Michoacán, fui miembro de la Junta de Buen Gobierno, del Caracol I "Madre de los caracoles. Mar de nuestros sueños".  Nos toca hablar un poco sobre el tema de las compañeras y a mí me tocó hablar un poco cómo es que era la participación antes del 94 de las compañeras y un poco cómo fuimos avanzando después del 94.
Así como platicamos en nuestra zona, que de por sí desde un principio nosotras como compañeras no participábamos, nuestras compañeras de más antes no teníamos esa idea de que nosotras como compañeras podemos participar.  Teníamos ese pensamiento o esa idea que nosotras las mujeres sólo servimos para el hogar o cuidar los hijos, hacer la comida; tal vez será por la misma ignorancia del capitalismo que eso es lo que teníamos en la cabeza.  Pero también nosotras como mujeres sentíamos ese temor de no poder hacer cosas fuera del hogar, así como también no teníamos ese espacio de parte de los compañeros.
Al igual no teníamos esa libertad de participar, de hablar, como que se pensaba que los hombres eran más que nosotros.  Cuando estamos bajo dominio de nuestros padres, nuestros padres no nos daban esa libertad de salir pues era mucho el machismo que se vivía antes.  Tal vez los compañeros no es porque ellos lo querían hacer sino porque tenían la idea que el mismo capitalismo o el mismo sistema nos lo penetró en la cabeza.  También porque el compañero no está acostumbrado a hacer oficios dentro del hogar, a cuidar los hijos, a lavar la ropa, hacer la comida y eso es lo que le dificulta al compañero hacer los oficios dentro del hogar pues le hace difícil cuidar los hijos para que la compañera pueda salir a hacer su trabajo.
Como dije antes, las compañeras que vivimos bajo dominio de nuestros padres o vivimos todavía con nuestros padres, como tenemos un respeto que cuando estamos con nuestros padres, nuestros padres dicen si podemos hacer el trabajo, pues nos vamos a donde queremos hacer el trabajo.  Pero si nuestros padres, a veces que nos dicen no vas a ir, es que a veces le respetamos, también a veces que tenemos en la cabeza que le respetamos a nuestros padres.  Entonces hay veces que nuestros papás no nos saca, también ha pasado que piensan que al sacarnos fuera de nuestras casas como hijas no vamos al trabajo que nos corresponde sino que vamos a hacer otras cosas y después involucramos a los papás en problemas y ya los papás se ocupan a ese espacio a arreglar nuestros diferentes problemas que tenemos como mujeres.  A veces también eso es la idea de nuestros padres o de los esposos, los que ya son parejas, o sea que eso también a veces tienen en la idea los compañeros.
(…)
-*-
Compañeros y compañeras, muy buenas tardes a todos ustedes que hoy aquí están presentes. Mi nombre es Andrea, mi pueblo es San Manuel, mi municipio es Francisco Gómez del Caracol III "La Garrucha". Venimos representando nosotros como compañeras de la zona de Garrucha, lo que alcanzamos a expresarnos pues no traemos tantas palabras, casi allá la mayoría hablan en tzeltal.
Voy a empezar primero con lo que habíamos sabido que antes de 94 habían sufrido mucho las compañeras. Había humillaciones, maltratos, violaciones, pero al gobierno no le importaba eso, su trabajo es nomás destruirnos como mujeres. No le importaba si es que hay una mujer que se enfermaba o pides ayuda o auxilio, eso no le importa.
Pero nosotras como mujeres, ya ahora, ya no podemos dejarnos a eso, tenemos que seguir adelante. En esos tiempos hemos sufrido, así es que han comentado las compañeras. En esos tiempos que dije que había muchas humillaciones, lo que hacía el mal gobierno y también los finqueros, ¿qué es lo que hacían en ese tiempo? Es que a las compañeras no las tomaban en cuenta.
¿Esos finqueros qué hacían? Los tenían en mozo a los compañeros, las compañeras se levantaban muy temprano a trabajar y de esa forma todavía las pobres mujeres seguían trabajando juntamente con los hombres. Había mucha esclavitud, pero compañeros, ahora ya no queremos eso, así es que ya apareció nuestra participación como compañeras.  En ese tiempo no había participación, nos tenían así como ciegos, sin poder hablar.  Pero lo que queremos ahorita es que ya funcione nuestra autonomía, queremos que ya participemos nosotras como mujeres, que ya no nos dejemos atrás. Seguiremos adelante para que vea el mal gobierno que ya no nos dejamos explotar como lo hizo con nuestros antepasados. Ya no queremos.
Ya de ahí hasta el año de 94 se supo que ya había nuestra ley de mujeres.  Qué bueno, compañeros, que ya hubo eso, que ya hemos participado.  Desde ese año ya habían salido manifestaciones, ya se ha visto que ya han salido las compañeras, por ejemplo en la Consulta Nacional salieron las mujeres también, participaron.  Yo también presenté en ese tiempo, yo tenía 14 años y presenté la Consulta Nacional. De esa forma, yo no sé ni participar ni hablar, pero sí hasta donde pude lo hice, compañeros.
Ya lucharon, ya demostraron, ya el gobierno se dio cuenta que también las mujeres ya no se dejaban, seguían. Ya ahora, que ya dije que ya queremos que funcione nuestra autonomía, y apareció nuestros derechos como mujer, lo que vamos a hacer ahora es ya construir, hacer el trabajo, así como dicen que ya es nuestra obligación seguir adelante.
Entonces nosotras que ya ahora estamos aquí presentes, no sé si alguna compañera que me sucede, una pregunta, si saben quién fue que hizo esa ley revolucionaria.  Si alguien lo quiere responder lo puede responder, porque alguien fue que luchó por eso y alguien fue que defendió por nosotras. ¿Quién fue que luchó por nosotras, compañeras? La Comandanta Ramona, fue que hizo ese esfuerzo para nosotras.  Ella no sabía leer ni escribir, ni hablar en castilla ¿Y por qué nosotras entonces, compañeras, no hacemos ese esfuerzo? Es un ejemplo esa compañera que ya hizo el esfuerzo. Ya es ella el ejemplo que vamos a seguir más adelante para hacer más trabajos, demostrar qué es lo que sabemos en nuestra organización.
-*-
Me toca representar a las compañeras que van a participar en tema de mujeres, que son 5 compañeras que van a participar.  Buenas tardes a todos. Mi nombre es Claudia. y vengo del Caracol IV de Morelia.  Soy base apoyo del pueblo Alemania, región Independencia, municipio autónomo 17 de Noviembre.  Voy a leer un poco, antes de entrar con nuestros subtemas, traigo una introducción.  Voy a leer el escrito porque si digo así nomás, ya estando aquí enfrente, se me va olvidar lo que voy a decir.
Mucho más antes sufríamos por el maltrato y la discriminación, la desigualdad en la casa, en la comunidad.  Siempre sufríamos y nos decían que éramos un objeto, que no servimos nada, porque así nos enseñaron nuestras abuelas.  Sólo nos enseñaron a trabajar en la casa, en el campo, cuidar el niño, los animales y servir el esposo.
Nunca tuvimos la oportunidad de ir a la escuela, por eso no sabemos leer ni escribir, mucho menos hablar en castilla.  Nos decían que una mujer no tiene derecho de participar ni reclamar.  No sabíamos defendernos ni conocíamos qué es un derecho.  Así fueron educadas nuestras abuelas por sus patrones que eran los rancheros.
Algunas de nosotras ahora todavía tenemos esa idea de trabajar sólo en la casa porque así vino encadenando este sufrimiento hasta ahora donde estamos.  Pero después de diciembre de 1994 se formaron los municipios autónomos, es ahí que empezamos a participar, a conocer cómo hacer los trabajos, gracias a nuestra organización que nos dio un espacio de participación como compañeras, pero también gracias a nuestros compañeros, a nuestros papás que ya entendieron que sí tenemos derecho a hacer los trabajos.
(…)
-*-
Compañera Ana. Nuevamente nos toca el turno otra vez a la Zona Norte, ya están acá los participantes que van a hablar de los temas que se analizó allá en nuestro caracol.  Voy a empezar con una introducción.
Hace muchos años atrás existía la igualdad entre hombres y mujeres porque no había uno que era más importante que el otro.  Poco a poco empezó la desigualdad con la división del trabajo, cuando los hombres son los que salían al campo a cultivar para sus alimentos, salían de cacería para completar la alimentación en las familias y las mujeres se quedaban en la casa para dedicar a los trabajos domésticos, así como también el hilado, el tejido de la ropa y en la elaboración de utensilios de cocina, como las ollas, vasos, platos de barro.  Más después surgió otra división del trabajo en aquellos que empezaron a dedicarse a la ganadería.  El ganado empezó a servir en forma de dinero ya que lo utilizaban para intercambiar sus productos.  Con el tiempo esta actividad se convirtió como el más importante, más aún cuando empezó a surgir la burguesía que se dedicaban a comprar y vender para acumular ganancias.  Todo este trabajo son los hombres quienes lo dedicaban, por eso son los hombres que mandan en la familia, porque él solo conseguía para los gastos de la familia y el trabajo de las mujeres no era reconocido como importante, por eso se quedaron como las menos, débiles, incapaces de hacer un trabajo.
Así era la costumbre, el modo de vida que trajeron los españoles cuando vinieron a conquistar nuestros pueblos, como ya dijimos anteriormente, que son los frailes quienes nos educaban e instruían en sus costumbres y conocimientos.  Desde ahí nos enseñaron que la mujer tenía que servirle a los hombres y hacerle caso en todo momento cuando da órdenes, y que las mujeres deben cubrir su cabeza con un velo cuando van a la iglesia y que no tiene que fijar su mirada por cualquier lado, tiene que estar agachadito su cabeza. Se consideraba que las mujeres son los que hacían pecar a los hombres por eso la iglesia no les permitía que las mujeres vayan a la escuela ni mucho menos ocupar cargos.
Nosotros los pueblos indígenas lo agarramos como una cultura la forma como los españoles trataban a sus mujeres, por esa razón en las comunidades empezó a surgir la desigualdad entre hombres y mujeres que sigue hasta ahora, como estos ejemplos:
Las mujeres no les permiten ir a la escuela y si una muchacha sale a estudiar era mal vista por la gente de las comunidades. A las niñas no les dejaban jugar con los niños ni tocarles sus juguetes.  El único trabajo que debe hacer las mujeres es en la cocina y a criar hijos.  Las muchachas solteras no tenían la libertad de salir ni de pasear en la comunidad ni en la ciudad, tenían que estar encerradas en su casa, y cuando se casaban eran cambiadas por el alcohol y otras mercancías, sin que la mujer dé su palabra si está de acuerdo o no, porque no tenía el derecho de elegir a su pareja.  Cuando ya están casadas no podían salir a solas ni hablar con otras personas, más si son hombres.  Existía el maltrato de las mujeres por sus maridos y nadie aplicaba justicia, estos maltratos más los realizaban los hombres que toman trago.  Así tenían que vivir toda su vida con sufrimiento y abuso.
Otra de las cosas que hacían las mamás era instruir a sus hijas en que tienen que servirle la comida a sus hermanos, para que más adelante pueda vivir bien con su esposo y no recibir maltrato, porque se cree que una de las razones del maltrato de la mujer es que no aprendieron a servirle a su marido y hacerle caso en todo lo que el hombre indique.
Pero también nuestros abuelos y abuelas tenían sus costumbres buenas que siguen practicando hasta ahora, por eso no hay mucha preocupación cuando hay enfermedades, porque conocían las plantas medicinales y sabían mucho de cómo cuidar la salud.  No se preocupaban por la falta de dinero porque todo lo que necesitaban para la alimentación ellos lo cultivaban, por eso las mujeres de antes eran fuertes, trabajadoras, porque elaboraban su propia ropa, calhidra, aunque no conocían su derecho pero pudieron salir adelante.
(…)
-*-
(Continuará…)
Doy fe.
Desde las montañas del Sureste Mexicano.
Subcomandante Insurgente Marcos.
México, Febrero del 2013.
:::::::::::::::::::::::::::::::::::::::::::::::
Ve y escucha los videos que acompañan este texto:
Y ya que de mujeres se trata, aquí Violeta Parra cantando "Arauco tiene una pena".  50 años después de esta voz, el Pueblo Mapuche sigue resistiendo y transformando esa pena en rabia.
———————————————————————————————
Audios e imágenes del encuentro "La Comandanta Ramona y las zapatistas", celebrado en el tierras zapatistas, en diciembre del 2007.  En una parte, nuestra compañera Comandanta Susana recuerda a la Comandanta Ramona, fallecida en enero del 2006.
——————————————————————————-
Mensaje de las compañeras zapatistas a las compañeras de todo el mundo, en diciembre del 2006.  Minuto 2:22 dice la compañera "No necesitamos a un profesionista a que nos venga a decir cómo debemos vivir".
————————————————————————————-

Them and Us.
VII. – The Smallest of them All 2:
How is it done?
February 2013
Note: Compas, at another time (that is, if there is one) I will explain to you how our EZLN is organized. For now, we don't want to distract you from the "Sharing." We only want to clarify that you will see something about an "Information Commission." This commission is made up of compañeras andcompañeros, comandantes and comandantas, (the CCRI, or Indigenous Revolutionary Clandestine Committee), who are watching over the work of autonomy, supporting the Juntas de Buen Gobierno (Good Government Councils), and who keep the Zapatista bases of support informed as to how everything is going.
For now, then, more fragments from the Zapatista "sharing":
-*-
(…)
This is how we work, then. The last question here asks: How do you resolve problems? Yes there have been problems in the municipality. Land problems, threats, problems with electricity, yes they exist, and I think that these problems exist in all of the communities because it isn't just bases of support who live together, we have even more problems where we live in the official [ruling party] pueblos where our enemies are, where those who govern are, where there are paramilitaries, that's where we have these problems. But we have to figure out how to govern ourselves, even though it is difficult to learn this because, as other compañeros have said, there is no instruction manual. There is no a guide for this, there isn't anything written down anywhere that tells us what to do; rather, we have to remember that this is how our ancestors served when they weren't named by officials but rather by the people, and they served the people, and they didn't get a salary. Corruption and bad service began when salaries entered into the equation.
It is in this way, in the little that I have done in my pueblo and in my municipality, that I have been able to serve, although as I said, we continue to learn, we do not just know how to do things because we are older. We continue learning with everyone [male and female]. I think this is the purpose of the distinct levels [of government], and the commissioners and agents, they each have a function but they lack a way to resolve problems. In our case, we have to learn how to govern because we are not trained in this, because we as campesinos are more focused on the countryside, our law is the machete, the file, and the pozol[i] that we carry with us. So, I don't know if I'm wrong compañeros, but this is what I have to share with you.
(…)
-*-
We have had a lot of meetings and made many agreements, more than just once we had to arrive at an agreement. We learned that this is difficult work; it isn't easy to do. Why? Because as I said a little while ago, we don't have a guide, there is no manual that we can look at to see what to do, a guide we can follow; we learned through our work with our people.
-*-
(…)
Compañeros, this is what we have been talking about and I won't add much more about the way we want to work. Many times the Junta cannot do the work alone, even though that idea crosses our minds; rather, the work must be based on coordination with the councils, and the committees [CCRI], so that we can carry out this idea of how we think things should work, this is what we have seen in some cases.
For example, with respect to the cargos,[ii] the responsibilities, we see the difficulty of having lots of work to do. When I had my cargo, we saw that sometimes there was work that the Junta didn't have the capacity to cover. For example, at that time there weren't drivers for the clinic, the Junta had to be the driver, it had to be the cook, it had to fetch firewood; there were a lot of tasks and on top of that we had all of the office work to do, like studying the pending issues, pending tasks or municipal issues that hadn't been resolved, and there just wasn't time for everything. Now I see, and this crossed our minds then, that we needed support, another driver in that case, because sometimes in the middle of the night we would have to go and get someone who was seriously ill, and it was the Junta that had to go, and would get back at three or four in the morning. This problem crossed our minds but we couldn't find a solution, the situation presented itself, but we couldn't resolve it.
One example during my turn as Junta was that we wanted to diagnose which illnesses were the most frequent in the municipalities. We couldn't define this in the Junta, not even with the information we had. I had to ask the mando [local Zapatista authority], as is required, as to whether or not I could go to the municipalities for this information. So I asked the municipalities and some of the municipalities again did not act, some gave this response – they had consulted the people regarding which illness was most frequent and it was typhoid, there had been a typhoid breakout, but they hadn't formed the councils [we asked for]. So work gets done when the process functions well, like a machine. When a machine doesn't function, or a piston or a cylinder doesn't work, the car can't go up the hill; it doesn't have the force. This is what happened with our authority, although the Junta thinks or wants to make a proposal for approval in the assembly, sometimes, many times, it doesn't get approval and doesn't go anywhere.
But yes, this is a necessity. I saw at that time that there was a lot of work that year because we didn't have a driver. Now I see that they are rotating drivers to tend to the clinics, and to do the related work of washing the car, checking the tires, getting gasoline, the Junta isn't responsible for that now.
With this step, things are getting better, and I think that like this, bit by bit, it will continue to get better, as long as we are thinking and studying the necessities that arise, because the work in the zone or the municipality is also growing little by little. Little by little, more compañeras will participate because the work is growing. So we see here that what is really important is coordination among everyone, taking everything into account, in order to develop proposals and new ideas for how we can work.
It is important not to lose contact with the people. These days I hear sometimes that things for which the people were consulted at one point can now be done without consultation, that they can change a few words without the people knowing. This is a problem and can cause things to run amok, because if we teach the people and explain to them, and then all of the sudden leave them aside, they start to talk, to argue.
This can create disagreements, or cause them to speak badly of the authorities, and many times we need to go back and explain to the people. As we said earlier today, the Junta has to be very clear on the seven principles. [This refers to the 7 principles of "lead by obeying" that guide the Juntas de Buen Gobierno: Serve, not Serve yourself/ Represent, not Supplant/ Construct, not Destroy/ Obey, not Command/ Propose, not Impose/ Convince, not Defeat/ Go Below, not Climb Above.]
The point is to convince the people, not to overcome them with the force of authority, you have to explain to them the reason for modifying certain rules or accords, you have to explain this to them; because if I am an authority and I don't explain to them why we do or don't do something, the question arises – was this point consulted with the people? This could create a grievance even if the people understand the decision, so explanations are meant to convince them and not to overcome them by force, so that people do not get discouraged or confused. This is what I wanted to explain a little more, because that's where dissent begins and how people get demoralized, this is how I see the problem.
You must always be close to the people so that this does not happen.
There are also people who might want to do something without majority agreement, so you have to explain to them that it can't be done, we have had a few cases like this. There are people who come to the office and even raise their voice to the authorities, but we can't accept their proposal because it depends on having majority approval. In these cases one has to be clear, one has to explain to the people and try to convince them, try to help them understand why we do things this way. This is what I think, compañeros, and this is what I try to explain about the seven principles, it is what I have understood, what I have learned a little about. I have not learned much because I only worked in that role for three years and little by little I realized how things needed to be. At that moment we couldn't do the work easily because we entered as new [authorities] without support, but now there arecompañeros who have stayed on for one more year to accompany the new authorities, so they have some support.
But when we began it wasn't like that, we had only the support of the committees [CCRI], they were there, and with that support, gradually we were able to understand things. I understood a little, and that is what I could explain to you compañeros.
(…)
How were they chosen?
They were chosen by the assembly; something like where we find ourselves now. In each municipality we convoked an assembly of the entire base and directly chose the group of compañeros to do that would do the work of autonomy.
What is their work? What work were these compañeros going to do? Because we had practically no knowledge about this, maybe a few people had some, but the majority had no knowledge about this task, what would we do? We would work on autonomy, we would govern ourselves, but "how" is the question that arose, what is it exactly that we're going to do? Well, no one knew the answer, but with the passage of time, with these authorities in place, problems arose that they would have to handle. There really were problems in each of our pueblos, in each of our municipalities.
What were the problems that the authorities faced at that time?
At that time, the principal problems we faced were alcoholism, domestic problems, problems between neighbors, and some agrarian problems.
So what did this group of compañeros do when a problem presented itself?
What they did was discuss it: first the person with the complaint would come and they listened to that person's problem. When they had listened, they would call in the other party, they listened to both sides. So this group of compañeros listened, first they listened to what the problem was and who was right. When they could see that the person with the complaint was right, then they had to talk with the other compañero with whom the first had the problem.
At that time, the authorities would try to give them ideas, that is, convince both sides to arrive at a peaceful solution without so much drama.
This is what the authorities did with other types of problems as well, in agrarian issues for instance, they would convince the compañeros not to fight, not to fight over a piece of land. If one compañero's land was being taken by somebody else, then they had to explain to the compañero who was taking the land why this shouldn't be, what is right, is right.
(…)
-*-
(…)
Yes, that is true, but my question then is if you need to make a rule, who proposes the idea? Where does the idea come from regarding what the rule should be? Who is it that says, 'I propose this'? Where does the idea come from? And so on. What do you do to unite the voice of the people, if it is originally the Junta's idea? Does the Junta take this on or do they still need the support of the compañeros of the Information Commission? Or who is it that says that we need to create a rule here?
Another compañero's response: What you have described, where an initiative comes directly from the compañeros who are authorities, an initiative for a rule comes directly from the compañeras who are in authority, that hasn't happened yet. It is between compañeras and compañeros.
No, compa, my question is as Junta de Buen Gobierno, not as compañeras. As Junta de Buen Gobierno, and this is just an example that I am giving, it doesn't have to be specifically about a rule or law. When you see that there is a need or there is a problem –  I use the example of a rule because it requires a relation – the Junta de Buen Gobierno isn't going to impose a law, and so we want to discuss how it is that you handle this. Because it is here that democracy enters into play, and this is what we want to understand. Because as you told us, there won't always be insurgent leaders present, and, as we understand, the Information Commission, or the CCRI [Indigenous Revolutionary Clandestine Committee] won't always be there either. So you as the Juntas de Buen Gobierno, how do you approach something that needs to be handled, a law or a problem, some issue that needs to move forward, a project or whatever it may be. How do the Juntas de Buen Gobierno, the MAREZ [Zapatista Autonomous Municipalities in Rebellion],the authorities and the people relate?
That is, how is democracy made?
(…)
-*-
To be continued…
I testify.
From the mountains of the Mexican Southeast.
Subcomandante Insurgente Marcos.
Mexico, February 2013
:::::::::::::::::::::::::::::::::::::::::::::::::::::::::::::::::::::::::::::
Listen to and watch the videos that accompany this text.
Alfredo Zitarrosa, perhaps involuntary teacher of a generation, oriental who still fights with the coplas, vidalitas, and milongas. Here he is singing "Adagio en mi pais," and by country, of course, he refers to every corner of the many worlds that abound and redound.
Arturo Meza with the song "La Rebeldía de la Luz." In one part of the song, master Meza mentions each one of the original peoples who, in Mexico, resist and struggle.
Daniel Viglietti, our brother and compa, reads a story called "La Historia del Ruido y del Silencio," which tries, in vain, to explain the Zapatista silences and the Zapatista gaze.
---
[i] Pozol is a highly nutritious drink made of the dough from ground corn mixed with water. It is commonly consumed in the Mexican countryside as a midday meal.
[ii] Cargo is like a combination of duty and task, or charge; it also refers to a position of responsibility.
****************************
Traducción del Kilombo Intergaláctico.
****************************