Rhythms of Zapata – Radio documentary on the Chicano-Zapatista musical movement in the US
Special documentary, about the Chicano musical movement inspired on Zapatismo.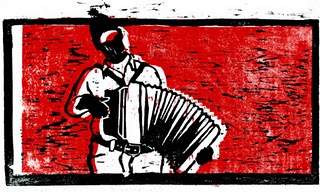 Alejandro Reyes – Radio Zapatista
English: (Descarga aquí)
Spanish: (Descarga aquí)
(Also listen to the musical collection Rola la Lucha Zapatista, with over 70 works by musicians from Mexico and the world, as part of the campaign Thousands of Rages, one Heart, in honor of the Zapatista struggle, as well as our musical collection Las voces rebeldes del Otro Lado, Zapatista music made in the USA.)
Every major social movement has its music, its anthems, its songs. Music tells the story of a people, their dreams, their hopes, their vision for a different world. But what happens when the music crosses borders to embrace new cultures?
In the U.S., people of color have been turning more and more to the Zapatismo as a source of hope and as proof that, as the Zapatistas say, a different world is possible.
Rhythms of Zapata is a half-hour documentary on the Chicano-Zapatista movement of East Los Angeles, where a number of Chicano artists inspired by the Zapatistas have been using music to raise awareness in their own communities and to struggle for a better world.
Featuring:
Luv the Messenger – Rapper and youth activist
Marisol – Performance artist and activist, member of Chusma, In Lak Ech, Self-Help Graphics, Chicano Records and Films
Nico – Poet and youth activist – member of Poets del Norte
Xela – Rapper and youth activist – member of Cihuatl-Ce
Olmeca – Hip-hop artist and activist
Joel García – Graphic artist and activist
Tolteka – Hip-hop artist and activist
Roberto Flores – Researcher and Zapatista activist
Elisa Mejía – Activist, member of Radio Insurgencia Femenina (KPFK, Los Angeles), member of Center for Popular Action
Colectivo Error – Musicians and activists
Sherman Austin – Hip-hop artist and activist against police violence
Cynthia, Priscila, Crystal – fans at concert
Dan Nemser – Student at UC Berkeley and Zapatista activist
Joaquín Cienfuegos – Member of Cop Watch Los Angeles and Revolutionary Autonomous Communities
Manuel Macías – Supporter of Cop Watch Los Angeles
Josefina Macías – Member of Cop Watch Los Angeles and Revolutionary Autonomous Communities
Subcomandante Insurgente Marcos
Music by:
Cihuatl-Ce
Olmeca
Tolteka
Fuga
Dialated Peoples
Banda Bassotti
Flor de Fango
Tijuana No
Aztlán Underground, and
Colectivo Error
Collectives and organizations:
Eastside Café
5469 Huntington Drive
El Sereno, CA 90032
Eastsidecafe_contact@yahoo.com
http://eastsidecafe.revolt.org/Main/HomePage

Cop Watch Los Angeles
235 W. Martin Luther King Blvd.
Los Angeles, CA 90037
copwatchla@riseup.net
www.copwatchla.org
www.myspace.com/copwatchla

Revolutionary Autonomous Communities rac@riseup.net

Arma Collective: www.armacollective.com

Radio Insurgente www.radioinsurgente.org