Update on the Gathering "The Zapatistas and ConSciences for Humanity"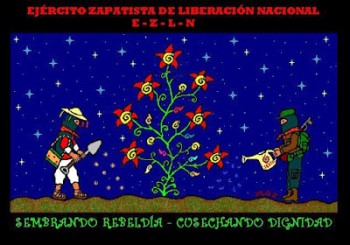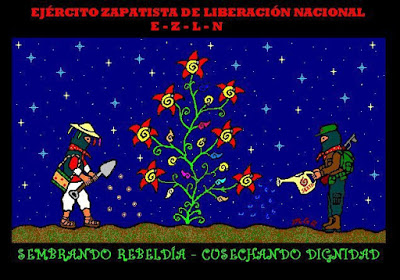 Update on the Gathering "The Zapatistas and ConSciences for Humanity."
Subcomandante Insurgente Moisés
ZAPATISTA ARMY FOR NATIONAL LIBERATION
MEXICO
December 15, 2016
To the scientific community of Mexico and the world:
To the National and International Sixth:
We send you our greetings. We want to update you on the plans for the gathering "The Zapatistas and ConSciences for Humanity," to be held at the CIDECI-UniTierra in San Cristóbal de las Casas, Chiapas, from December 25, 2016 through January 4, 2017.
As of December 12, 2016, we have the confirmed participation of 82 scientists from the following countries:
GermanyCanada

Chile

United States

Spain

Israel

Paraguay

United KingdomUruguay

Brazil

Mexico (Baja California, Campeche, Mexico City, Mexico State, Jalisco, Morelos, Oaxaca, Puebla, Querétaro, San Luis Potosí)
The areas in which they work are the following:
Quantum Field TheoryMathematics

Volcanology

Astrophysics

Astronomy

Cosmology

Nuclear Fusion

Genetics

Microbiology

Geophysics

Statistical Physics

Optics

Bioethics

Biophysics

Evolutionary Biology

Marine Biology

Molecular Biology

Biochemistry

Biotechnology

Physiology and Biophysics of Excitable Cells

Solar Photochemistry

Genetic Mutation and Environmental Pollution

Genomics of Microorganisms

Origin and Evolution of Life

Complex Systems

Intelligent Systems Control

Biomedical ResearchNeurobiology

Neuroscience

Neuroimmunology

Aquaculture and Conservation of
Aquatic Systems

Agroecology

Energy Conservation

Food Science and Technology

Energy Science

Nutrition Science

Animal Behavior and Communication

Biodiversity Conservation

Palliative Care

Pediatrics

Behavioral and Conservation Ecology

Evolutionary Ecology of Microorganisms

Marine Ecology

Theoretical Ecology

Ecology and Agroecology

Renewable Energy

Energy Systems Engineering

Hydrology

Environmental Chemical Engineering

Chemical Engineering

Magnetic Separation of Minerals
Scientists and attendees may register on December 25, 2016. Activities will begin on December 26, at 10am, and will conclude on January 4, 2017, at 6pm. There will be an intermission on December 31, 2016 and January 1, 2017.
The electronic address to register as a listener/observer is: conCIENCIAS@ezln.org.mx
Two hundred Zapatista bases of support—women, men, children, and elders—of the languages Tzeltal, Tzotzil, Tojolabal, Chol, Zoque, Mame, and mestizo, will attend as students. The Zapatista students are the only ones who may direct questions to the scientists who present.
The gathering will have general sessions, information sessions, and workshops.
That's all for now.
From the mountains of the Mexican Southeast,
Subcomandante Insurgente Moisés
Mexico, December 2016