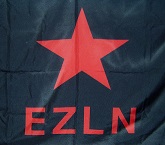 The Journey for Life: To What End?
June 2021
A clarification: often when we say "los Zapatistas," we are not referring to men, but to the Zapatista villages [pueblos]. And when we say "las Zapatistas," we're not describing women, but the Zapatista communities [comunidades]. That's why you'll notice this 'gender-hopping' in our wording. When we refer to gender we always use "otroa" to mark the existence and struggle of those who are neither men nor women (our ignorance on the subject prevents us from going to details—but soon we will learn to name all of the differences).
-*-
  That said, the first thing that you should know or understand about the Zapatistas is that when we are going to do something, we prepare first for the worst. We start with a disastrous ending and prepare in reverse to confront it, or ideally to avoid it.
For example, we imagine being attacked: the usual massacres, genocide disguised as modern civilization, total extermination—and we prepare for those possibilities. On January 1, 1994, we did not imagine defeat: we assumed it as a certainty.
Maybe that helps you understand our initial shock, hesitation, and any puzzling improvisation on our part when, after so much time, effort, and preparation for ruin, we discovered that…we live.
So it is out of that skepticism that we develop our initiatives: some smaller, some larger, all outrageous. Our calls are always directed at "the other," that which is beyond our daily horizon but which we recognize as necessary in the struggle for life, which is to say in the struggle for humanity.
In the maritime version of this initiative-gamble-delirium-folly, we prepared for the Kraken, a storm, or a stray white whale to wreck the vessel. That's why we carved canoes and sent them with the 421st Squadron on La Montaña all the way to Vigo, Galicia, Spanish State, Europe.
We also knew that we might not be welcomed, so we sought in advance consensus for the invasion—that is, the visit… Actually, we're still not sure whether we're exactly "welcome". For more than one man, woman, or other [una, uno, unoa], our presence is annoying, if not frankly disruptive. And we get it: it could be that after a year or more of lockdown, some might find it inconvenient that a group of indigenous Mayans, mere producers and consumers of commodities (electoral or otherwise), would try to talk in person. In person! (Do you remember how that used to be a part of daily life?) And worse, that they would make it their principal mission to listen to you, to pepper you with questions, to share nightmares and, of course, dreams.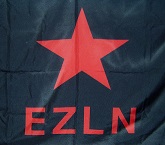 The Landing
«El desembarco» by León Gieco performed by León Gieco (Vocals and Harmonica), Jairo (Vocals and Djembe), Silvina Moreno (Vocals), Sandra Corizzo (Vocals), Diego Boris (Harmonica), Antonio Druetta (Mandolin), Pablo Elizondo (Guitar), Luciana Elizondo (Viola da gamba). 2021.
The Landing
From the Other Europe.
Individuals, Groups, Collectives, Organizations and European movements – in collaboration with the 421st Squadron.
June 2021.
P.S. – There is a song by León Gieco[i] called «El Desembarco» [The Landing]. I had it archived in a "pending" folder for years, wondering when and in which video to use it. In the end, I thought that when the time came, I would know.
I thought, as I watched Marijose set foot on Galician soil, not about the song, but about the invisible web that brought music together with a buccaneer boot, worn on a native Mayan foot, stepping onto Iberian soil.
I did a little research and it turns out that the song was released in 2011 on an album of the same name. That was 10 years ago … or more. When was this song born in the heart of León Gieco, our unwitting brother – or sworn brother like Juan Villoro[ii] – who we hold within the great embrace that is Latin America? Months or years before?
Did León dream what the lyrics say?
Is it the same dream had by Marijose when, in April's fiery embrace, it was decided that Marijose [elloa] would be the first to disembark? Is it the same dream that the late SupMarcos had when he wrote «Sailor on the Mountain» years before the uprising? The same one that kept Don Durito[iii] of the Lacandón Jungle awake when he imagined (or made—we'll never know) his journey through European lands? Did Comandanta Ramona, the first to leave Zapatista territory and from whose path the National Indigenous Congress was born, dream that dream?  Is it the same one dreamed by then Lieutenant Colonel Insurgente Moisés when – in 2010, on the outskirts of a hut in the mountains of the Mexican southeast – he received the rank of Subcomandante? The one that Señor Ik, SubPedro, and 45 other Zapatistas had moments before falling in combat in January 1994? The one that, collectively, the indigenous Sami people – in the northernmost north of Europe – put forward in their Declaration for Life? Was it the dream of Gonzalo Guerrero[iv] over 500 years ago when he made the path and destiny of the Mayan people his own? Is it that dream that unsettled Jacinto Canek[v]?
Did this dream alleviate to some extent the passing of Comandante Ismael, Dr. Paulina Fernández C., Oscar Chávez, Jaime Montejo, Jean Robert, Paul Leduc, Vicente Rojo, Mario Molina, Ernesto Cardenal and so many family members – all brothers and sisters without knowing it – that we have lost in recent months?
Is it the dream that inspired Europe from below to organize such a terrible and marvelous reception in Vigo?
The one that now travels through the streets, neighborhoods, countryside, and coasts of Europe repeating «Will July rain on Paris»?
Is it the dream that inspired the voices that found echo in the emblematic reflections on the beaches of Vigo and crossed the Atlantic to now take nest in the Zapatista communities?
Because the 421st Squadron descends not from a ship, but from La Montaña, «without weapons, and for life.»
Is this what humanity is? That which weaves the long and hidden thread that unites different and distant geographies and links calendars near and far?
I do not know. But I would recommend to those whose curse is art: Give expression to that dream. Whichever it is, let it be yours.
Because you never know when and where another gaze, another ear, other hands, another step, another heart in another calendar and another geography, will need to take it down from the great shelf of hopes and dreams, open its entrails and plant it, like a seed, in painful reality.
I bear witness,
SupGaleano.
June 2021.
—
[i] Argentine folk rock performer, composer and interpreter.
[ii] Juan Villoro is a Mexican writer and journalist and the son of philosopher Luis Villoro.
[iii] Don Durito's adventures across Europe in 1999: https://enlacezapatista.ezln.org.mx/1999/10/13/la-hora-de-los-pequenos-durito-carta-4a/
[iv] Gonzalo Guerrero was a sailor from Palos, Andalucia, Spain who was shipwrecked along the Yucatán Peninsula and taken prisoner by the local Maya. Over time he took on Mayan culture as his own, became a Mayan chief, and died fighting alongside the Maya against Spanish conquistadors in defense of Mayan territory.
[v] Jacinto Canek – 18th-century Maya revolutionary who fought against the Spanish in the Yucatán Peninsula of New Spain.