CNI

Al Ejercito Zapatista de Liberación Nacional
Al Congreso Nacional Indígena
Al Concejo Indígena de Gobierno
A los pueblos de Guerrero
A los pueblos de México
A las mujeres que luchan
A la sexta nacional e internacional
A las redes de apoyo al CNI-CIG
Desde la llegada de los españoles a nuestras tierras y el inicio de la guerra de exterminio contra los pueblos indígenas, nos despojaron y fue con violencia que tuvimos que dejar los valles y refugiarnos en las montañas que hoy nos resguardan y se volvieron nuestro hogar. Las montañas nos cobijaron, nos han alimentado, nosotros aprendimos a cultivarlas, cuidarlas, a hablar con ellas, y a aprender de ellas. Ahora como hace cien años, como hace doscientos años llegan nuevos gobiernos junto con sus jefes los empresarios, los más ricos de este país y del mundo, para decirnos que también tenemos que dejar nuestras montañas, que van a construir autopistas, minería, industria, corredores transístmicos, termoeléctricas.
Dicen que ahora si viene el progreso y que por eso deben sacrificarnos a nosotros, a nosotras, como indígenas que no valemos, que no importa, que no hay derecho para nosotros, como decían los españoles; no tenemos alma. Así ahora la autonombrada 4T dice que estorbamos, que es necesario nuestro sacrificio para su progreso, pero esta historia ya la conocemos, así paso hace 528 años, así se repite ahora.
Como antes y como ahora resistimos y vamos a seguir resistiendo, vamos a luchar contra el despojo, contra la violencia y contra los malos gobiernos vengan de donde vengan. Pretenden pasar por encima de nosotros, de nosotras, de nuestros antepasados, de nuestra cultura, nuestra historia, nuestra dignidad y nuestra vida. López Obrador habla mucho de que todo debe ser legal, pero su gobierno violenta las leyes constitucionales, violenta los derechos humanos y esta violentando a los pueblos indígenas.
A nuestros hermanos y hermanas Otomís en el Estado de México les impusieron la autopista Toluca-Naucalpan el pasado mes de Octubre, violando los amparos que estaban vigentes, en los cuales el juez ordeno la suspensión definitiva de la obra. Pero con golpeadores, compra de conciencias, trabajos forzados durante la pandemia, y por la negociación política entre del PRI y MORENA no les importo el bienestar de los pueblos y se impuso la voluntad empresarial.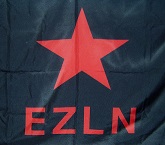 Traducione Italiano
Deutsch Übersetzung
Español
For Life and Against Money
The CNI-CIG and the EZLN Call for Solidarity with the People's Front in Defense of the Land and Water of Morelos, Puebla, and Tlaxcala
November 2020.
To the people of Mexico:
To the peoples of the world:
To the Sixth in Mexico and abroad:
To the media:
The National Indigenous Congress-Indigenous Governing Council [CNI-CIG] and the Zapatista Army for National Liberation [EZLN] denounce the National Guard's cowardly eviction of the compañeros maintaining the resistance camp in San Pedro Apatlaco, Morelos, on November 23, 2020. This eviction was carried out in order to resume the illegal construction of the aqueduct that carries water from the Cuautla River to the Huexca thermoelectric plant.
With utter cynicism the neoliberal government says it governs this country while actually just obeying its real bosses—big capital. With utter cynicism the armed forces, under their overseer's orders, violate the rights of our peoples, stealing water from the Cuautla River from the peasant communities of Ayala and turning it over to the corporations that will profit from the Integrated Morelos Project: Elecnor and Enagasa, who were awarded the contract for the gas pipeline; Bonatti and Abengoa, who will build the gas pipeline and the thermoelectric plant in Huexca; and Saint Gobain, Nissan, Burlington, Continental, and Northeast Natural Gas, who will profit from gas sales.
The armed forces and the neoliberal government use the Integrated Morelos Project to justify military flyovers to exercise repression and advance the development of energy infrastructure, which is based on the destruction and dispossession of the originary peoples' territories. Over the spilled blood of our people, like our compañero Samir Flores Soberanes, they exploit nature, allowing the owners of transnational capital to destroy the mountains through mining concessions and ceding the region's water to the industrial corridors in Cuautla, Yecapixtla, Cuernavaca, and elsewhere in the states of Morelos, Puebla, and Tlaxcala. The overseer who claims to govern this country ordered, with total cynicism and impunity, the trampling of the supposed rule of law, violating eight court-ordered suspensions of the aqueduct project, which would divert and contaminate the region's water through the construction of the Huexca thermoelectric plant. This is also a violation of two other court-ordered suspensions regarding gas pipeline construction within the periphery of the sacred Popocatepetl volcano and contamination of the Cuautla River, both part of the Integrated Morelos Project.
Given the above and faced with increasing tensions and violations of the rule of law, we hold the bad governments of the state of Morelos and the nation responsible for any repression or attacks against our compañeros and compañeras in struggle who resist these megaprojects of death. In particular we call for solidarity with the People's Front in Defense of the Land and Water of Morelos, Puebla, and Tlaxcala.
Sincerely
November 2020
For the Full Reconstitution of Our Peoples
Never Again a Mexico Without Us
National Indigenous Congress-Indigenous Governing Council [CNI-CIG]
Zapatista Army for National Liberation
Mexico, November of 2020.