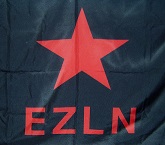 An invitation to: "The Impossible Movie Theater"
Sixth Commission of the EZLN, October 2018
 ZAPATISTA ARMY FOR NATIONAL LIBERATION
Sixth Commission of the EZLN
Mexico
October, 2018
To the persons, groups, collectives and organizations of the national and international Sixth:
To the support networks for the Indigenous Governing Council:
To those for whom cinema is a hobby, vice, or obsession:
Part I and only:
THE IMPOSSIBLE MOVIE THEATER.
(Opening scene: The Serpent Offers the Apple)
 You're walking without a destination. You don't know where you're going, much less why. Behind you is the busy street which runs along the wall whose crumbling facade mocks the also deteriorating poster of the Happy Family. In the distance lies the monumental stadium and its impertinent question: "Who rules?" Anyway, right now you have no idea where you are and you're starting to wonder if you should turn back…but you don't know where or why you'd go in that direction either. So you stop, but only for a moment because a little girl grabs your hand and hurries you along: "Hurry up or we'll be late to the movie." You don't have a chance to respond because you're immediately faced with a colorful sign declaring: "All adults must be accompanied by a child [niño]." But someone has crossed out "un niño" and written "a girl [una niña]." Another anonymous hand has scratched that out to write "unoa niñoa." Someone else crossed that out and wrote instead, "None of that matters here."
Someone wearing a ski-mask stops you, but the little girl says to the masked face, "he's with me." The masked person allows you to pass. You walk down a slope partially covered in cement, through puddles, rocks, and mud. Off to the side there are multiple wood structures with tin roofs. The fog is heavy, so the humble structures appear and disappear with every step you take, like "fade in" and "fade out" scenes. You keep going without knowing where you're headed. The atmosphere reminds you of an old mystery movie…or a horror film.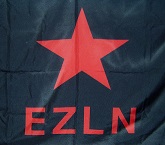 (Story read at the close of the "CompARTE for Life and Freedom 2018" arts festival in Morelia, Caracol "Whirlwind of our Words," mountains of the Mexican Southeast.)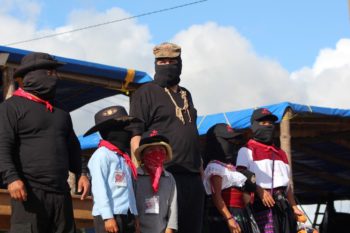 Listen here (in Spanish): (Descarga aquí)
It may have been a string of random events, without any apparent relation between them, that brought about this tragedy.
It may have been merely a coincidence, a bit of bad luck, as if destiny decided to feed rumors of its existence by dropping pieces of a jigsaw puzzle onto the now-cracked open heads of humans and machines.
Or maybe the Storm itself (yes, that storm that Zapatismo insists on calling attention to and, like most things we say, no one else seems to notice) revealed a spoiler, a hint of what is coming. It was as if the incoherent software on which reality apparently runs suddenly flashed an urgent warning, an unexpected alert, a signal so subtle that it was only noticed by the most experienced lookouts, those who focus on examining horizons so distant that they don't even appear as factors in the frenetic statistics of the global system. After all, statistics function to show tendencies deeper than the drama of the day-to-day. What's one murdered woman? A number: one more statistic, one less woman. Statistically speaking, you'd need more, many more of these "gendered" murders to even suggest evidence of a tendency—which would be that of the system's runaway gallop toward the abyss, skidding through blood, mud, ash, shit, and destruction. What's on the horizon? War. What's down the beaten path? War. In the capitalist system, war is the starting point, the ending point, and everything in between.
But maybe I'm just talking madness. After all, this is a story, and one has to be careful not to veer into biased reflections, dangerous ideas, morbid thoughts, idle musings, or provocations.
Those who had to suffer through watching a movie with the late SupMarcos can tell you that it was intolerable. The truth is he was intolerable in various respects, but for now I'm talking about watching movies. Any time a firearm appeared onscreen he'd hit pause and launch into a long and pointless discussion about trajectory, distance, force, firepower, and the various shorter or longer geometric curves a projectile could take en route to its "objective." During that pause he didn't care how the plot was going to play out, or if other viewers were anxious to know if the hero (or the heroine, musn't forget gender equity) would be saved; he'd just delve into his hopelessly erudite explanations: "that one is a M-16 rifle, NATO 5.56-caliber—named as such to differentiate between munitions manufactured in countries belonging to NATO versus those of the Warsaw Pact, etc. etc." The rest of the movie-watchers never knew what to do: if they showed interest, he might go on even longer; if they looked disengaged, he might think he hadn't been sufficiently clear and thus expound further, always eventually ending up, of course, at the Cold War. At that point SupMarcos would always feel obliged to explain that the term "cold war" was an oxymoron, the system's way to hide the death and destruction that characterized that period. From there he would delve into the "fourth world war" and on and on until the popcorn got cold and turned into mush with hot sauce.