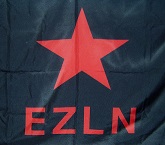 COMUNICADO DEL COMITÉ CLANDESTINO REVOLUCIONARIO INDÍGENA-COMANDANCIA GENERAL DEL EJÉRCITO ZAPATISTA DE LIBERACIÓN NACIONAL.
Escucha aquí: (Descarga aquí)
MÉXICO.
29 de diciembre del 2017.
A las mujeres de México y el Mundo:
A las mujeres originarias de México y el Mundo:
A las mujeres de Concejo Indígena de Gobierno:
A las mujeres del Congreso Nacional Indígena:
A las mujeres de la Sexta nacional e internacional:
Compañeras, hermanas:
Les saludamos con respeto y cariño como mujeres que somos, mujeres que luchan, resisten y se rebelan en contra del sistema capitalista machista y patriarcal.
Bien que lo sabemos que el mal sistema no sólo nos explota, nos reprime, nos roba y nos desprecia como seres humanos, también nos vuelve a explotar, reprimir, robar y despreciar como mujeres que somos.
Y ahora lo sabemos porque está más peor, porque ahora, en todo el mundo, nos asesinan. Y a los asesinos, que siempre son el sistema con cara de macho, no les importa si nos matan, porque los policías, los jueces, los medios de comunicación, los malos gobiernos, todos los que allá arriba son lo que son a costa de nuestros dolores, los cubren, los solapan y hasta los premian.
Pero como quiera no tenemos miedo, o sí tenemos pero lo controlamos, y no nos rendimos, y no nos vendemos y no claudicamos.
Entonces, si eres una mujer que lucha, que no está de acuerdo con lo que nos hacen como mujeres que somos, si no tienes miedo, si tienes miedo pero lo controlas, pues entonces te invitamos a encontrarnos, a hablarnos y a escucharnos como mujeres que somos.
Por eso invitamos a todas las mujeres rebeldes del mundo al:
PRIMER ENCUENTRO INTERNACIONAL, POLÍTICO, ARTíSTICO, DEPORTIVO Y CULTURAL DE MUJERES QUE LUCHAN.
A celebrarse en el Caracol de Morelia, zona de Tzotz Choj, Chiapas, México, los días 8, 9 y 10 del mes de marzo del 2018. La llegada el 7 de marzo y la salida el 11 de marzo.
Si eres hombre, de balde estás escuchando o leyendo esto porque no estás invitado.
A los varones zapatistas los vamos a poner a hacer lo necesario para que podamos jugar, platicar, cantar, bailar, decir poesías, y cualquier forma de arte y cultura que tengamos para compartir sin pena. Ellos se encargarán de la cocina y de limpiar y de lo que se necesite.
Se puede participar individualmente o en colectivo. Para registrarse, está la dirección de correo electrónica:
encuentromujeresqueluchan@ezln.org.mx
Y pones tu nombre, de dónde eres, si eres individual o colectiva, y cómo vas a participar o si sólo vas a venir a echar fiesta con nosotras. No importa tu edad, tu color, tu tamaño, tu credo religioso, tu raza, tu modo, sólo importa que eres mujer y que luchas como sea en contra del capitalismo patriarcal y machista.
Si es que quieres venir con tus hijos que son varones porque todavía están pichitos, bueno, puedes traer, sirve que se empiezan a entender en su cabeza que, como mujeres que somos, no estamos dispuestas a seguir soportando violencia, humillaciones, burlas y chingaderas de parte de los hombres, ni del sistema.
Si te quiere acompañar un varón mayor de 16 años, ahí lo veas, pero de la cocina no pasa. Aunque tal vez ahí algo alcanza a ver y a escuchar, y algo aprende.
O sea que no se admiten hombres que no vengan acompañados por una mujer.
Es todo, acá te esperamos compañera, hermana.
Desde las montañas del sureste mexicano.
Por el Comité Clandestino Revolucionario Indígena-Comandancia General del Ejército Zapatista de Liberación Nacional y a nombre de las niñas, jóvenas, adultas, ancianas, vivas y muertas, concejas, juntas, promotoras, milicianas, insurgentas y bases de apoyo zapatistas.
Comandantas Jessica, Esmeralda, Lucía, Zenaida y la niña Defensa Zapatista.
México, 29 de diciembre del 2017.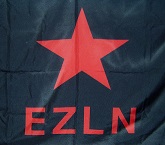 Trump, Ockham's Razor, Schrodinger's Cat, and the Cat-Dog.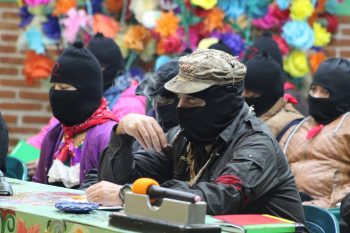 Listen here (in Spanish): (Descarga aquí)
Listen to the English translation: (Descarga aquí)
December 28, 2017.
Once again good morning, afternoon, evening, middle-of-the-night.
Perhaps some of you [alguna, alguno, algunoa] remember that the late SupMarcos insisted that the capitalist system cannot be understood without the concept of war. Supposing, of course, that it is a concept. He would say that war was the motor that had permitted, first, the expansion of capitalism, and then its consolidation as a world system. Capitalism also turns to war to confront its recurring and profound crises.
Oh, I know, what else could be expected from a solider? But I should note, as a way of making amends, that he didn't limit "war" to military war. Maybe a rereading of his correspondence with Don Luis Villoro Toranzo in the year 2010, which was made public in early 2011, could help us understand this. In the first of these public missives, they analyze the apparent ineffectiveness of the so-called "War on Drugs," initiated by the war videogame lover Felipe Calderón Hinojosa. And I say "apparent ineffectiveness" because basically, looking at the results, it was and is ineffective for combatting organized crime, but it was effective at installing soldiers as the de facto government in various regions.
I bring this up because, in contrast to that deceased guy, in my understanding, capitalism could be studied as a crime.
Addressing it as such would require of us scientific knowledge of subjects which might seem distant from what are traditionally known as the "social sciences."
In short, you can catalog this theoretical detour however you'd like. Perhaps it is the product of an unfinished correspondence course on private detection begun in that faraway time when "mail" didn't refer to online accounts and screennames, and when an address meant the postal code and not the IP, or internet protocol; a time when one could study, also by correspondence, anything from a course on locksmithing to one on aviation piloting, including, of course, the one on "how to have a body like Charles Atlas[i] without going to the gym and in only a few weeks," which wasn't necessary for me to take given my famously beautiful and toned legs (arrrrrroz con leche[ii]).