Pueblos Indígenas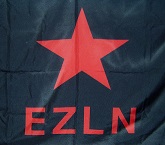 ZAPATISTA SIXTH COMMISSION.
Mexico.
July 2021.
To the adherents of the Declaration for Life:
To the Europe from Below and to the Left:
To the National and International Sixth:
To the National Indigenous Congress-Indigenous Governing Council:
To the Networks of Resistance and Rebellion:
To the Collective «Llegó la Hora de los Pueblos«:
From: Subcomandante Insurgente Moisés.
Compañeras, compañeroas, compañeros:
Sisters, brothers, and hermanoas:
I greet you in the name of the children, women, them, elders and men of the Zapatista communities, and I communicate to you the following:
First.- We already have a strong Zapatista airborne company of 177 Zapatistas ready. It is made up in its totality by nativeso f Mayan roots, from the Cho'ol, Tzotzil, Tzeltal, Tojolabal and Castilian languages. We were born in the geography called Mexico. Our ancestors were born and died in these lands. As the Mexican State does not recognize our identity and origin, and tells us that we are "extemporaneous" (so says the Secretary of Foreign Affairs, that we are "extemporaneous" Mexicans), we have decided to baptize  this unit of Listening and Word [Escucha y Palabra] as "The Extemporaneous."
As we saw in the dictionaries, "extemporaneous" means "that it is  inopportune, inconvenient", or "that it is inappropriate for the time in which it happens." In other words, that we are inopportune, inconvenient and inappropriate.
Never before have we been so adequately defined. We are happy that at last the Mexican State recognizes that this is how it considers the original peoples of this geography called Mexico. I think that's how it laments not having annihilated us… yet; and that our existence contradicts the official discourse about the «conquest.» Now it is understood that the demand of the government of Mexico to that of Spain, demanding that it ask forgiveness, is for not having exterminated us.
Of the 177 delegates, 62 of us still do not have a passport. The Secretary of Foreign Affairs is in a bind due to the «inconvenience» that we represent. Despite the fact that we have demonstrated our identity and origin, it continues demanding more and more documents. The only thing left for them to do is to ask the governments of Central America to say that we are not citizens of those countries.

AL EJÉRCITO ZAPATISTA DE LIBERACIÓN NACIONAL
AL CONCEJO INDÍGENA DE GOBIERNO
AL CONGRESO NACIONAL INDÍGENA
A LA RED NACIONAL CONTRA LA REPRESIÓN
A LAS REDES DE REBELDÍA Y RESISTENCIA
A LA SEXTA NACIONAL E INTERNACIONAL
A LOS MEDIOS DE COMUNICACIÓN
Todos mienten, todos solapan la muerte de los pueblos
y la destrucción de la Madre Tierra… Nosotras y
nosotros, no olvidamos.
16 JULIO DE 2021
El pasado 30 de abril de 2021 hicimos un llamado a la VERDAD y a la JUSTICIA, los niños y niñas de nuestras comunidades salieron a demandar vida y no muerte. Usted en vez de hablar de las causas que orillan a una comunidad a tomar las armas, se dedicó a atacarnos, a decir que el que a hierro mata, a hierro muere, como una amenaza para nosotros y nosotras. Hoy que visita Guerrero, sabemos que pasará de largo las verdaderas problemáticas de nuestro estado.
No nos confunda señor, nosotros como pueblos originarios pertenecientes al CIPOG-EZ no
luchamos por cargos públicos, no somos financiados por ningún partido político para hablar mal de usted, ni mucho menos luchamos por despensas o programas de "Bienestar", motivo
por el que viene a Guerrero; nosotros luchamos por la vida, porque grupos narcoparamilitares operan con la complicidad de los tres niveles de gobierno. Sí, así es, de los 3 niveles de gobierno y eso lo incluye, por complicidad y silencio, porque hemos pasado por autoridades federales, estatales, municipales, oficio tras oficio firmado, reuniones logradas
y reuniones canceladas, acuerdos incumplidos una y otra vez por cada uno de los funcionarios, para ustedes nuestra palabra no vale, quizás porque no pertenecemos a un grupo de poder, o porque no nos vendemos.
No nos trate de engañar, que nuestros dolores y demandas no están para sus juegos, sabemos que los programas sociales que una y otra vez va presentando en nuestras comunidades siguen siendo limosnas, creyendo que nos logran comprar y silenciar con su Sembrando vida, 60 y más, Jóvenes escribiendo el futuro, Crédito ganadero a la palabra, Jóvenes construyendo el futuro y otros tantos más.
Nosotras y nosotros no entendemos cómo los gobiernos de cualquier partido político, incluyendo al actual, pretenden resolver los problemas del país a través de la repartición de migajas, cómo quieren resolverlos desde su lógica del dos pájaros de un tiro: reparten migas y se aseguran votos para permanecer en el poder, pues claramente los programas sociales han sido y son la base del clientelismo que sostiene a los partidos políticos. Son el gancho con el cual amenazan y extorsionan a sus votantes, funcionan como herramientas para legitimar su poder. Su mal gobierno, su mala política de arriba y su mala democracia no funcionan, han sido sostenidos por programas sociales que históricamente han
desmovilizado a la población y usted lo sabe, lo mismo hizo el PRI, el PAN y ahora Morena.
Y por si no fuera suficiente, vienen y promocionan sus programas sociales sin saber el contexto ni nuestras verdaderas necesidades, solo se ha encargado de repartir y usar estas" visitas" como propaganda para mantener su poder, para la foto, para simular que hacenp ara nosotros y nosotras, cuando bien sabemos que lo que hacen es para ustedes.
Reparten lo que desde su cabeza es importante, pero no escuchan las verdaderas demandas de los pueblos ¿Cuándo realmente nos va a escuchar? Y no sólo eso ¿cuándo habrá verdad y justicia para nuestras hermanas y hermanos asesinados, torturados,
desaparecidos, desplazados?
Sabemos que hay problemas que ha decidido no ver, rechazar con el argumento de que México va bien ¿le parece que va bien cuando en Guerrero como en otros estados del país hay miles de desplazados por la proliferación del crimen organizado? ¿que va bien cuando
en México en lo que va de su sexenio (no en los anteriores, en el suyo), han sido asesinados 56 defensores de derechos humanos, de la tierra y la vida? ¿De qué nos sirve un programa social si a la vuelta están los criminales acechando para extorsionarnos o asesinarnos?
Porque vemos que se habla con total naturalidad de desplazados, asesinados, torturados, desaparecidos, tanta naturalidad que se convierten en cifras, en pasado no vivo, en heridas cicatrizadas, al menos para usted y su gobierno, porque acá abajo, entre los pueblos, no son cifras, sino nombres, no son pasado sino reflejo del presente y heridas abiertas que sangran y a usted parece tenerlo sin cuidado.
"Usted viene a dar zapatos a los niños pobres", a silenciar el dolor y la muerte que recorre nuestro estado desde varios años atrás. Y claro que podría argumentar que fueron los gobiernos anteriores, pero no podrá negar que es en su gobierno donde se ha agudizado
la violencia y los desplazamientos forzados; tampoco negará que le hemos dicho claramente quienes matan, quienes torturan y desaparecen, le hemos dicho lugar, hechos y nombres.
Hoy venimos a recordarle que ya son mas de 10 mil desplazados por la violencia en los municipios de Chilapa, Zitlala, Coyuca de Catalán, San Miguel Totolapan, Apaxtla, Ajuchitlan del Progreso, Tecpan, Petatlan, Iguala, Cocula, entre otros municipios; Guerrero
es el estado más violento de México, por encima de Morelos, Sinaloa y Michoacán y uno de los estados donde quien gobierna, literalmente, es el narco, ahí están los grupos narcoparamilitares "Los Ardillos" y "Los Rojos", que tanta muerte han causado a nuestrospueblos.
Usted, nosotros y nosotras lo sabemos, ya es bien sabido quiénes matan, quiénes son los
asesinos y quienes lo permiten. Ya sabe nuestras demandas: nuestros y nuestras asesinadas y desplazadas no regresan porque nos den una despensa al mes, a nuestros hijos e hijas no dejarán de matarlos solo porque les de una beca, ni tampoco dejarán de
despojar nuestros territorios porque nos de unos costales de fertilizantes o semillas.
Nuestros derechos de salud, educación, trabajo, alimentación, libre tránsito han sido gravemente violados y la razón ya la sabe. Cualquier programa que nos venga a ofrecer son migajas y es una burla.
Atentamente:
Consejo Indígena y Popular de Guerrero-Emiliano Zapata