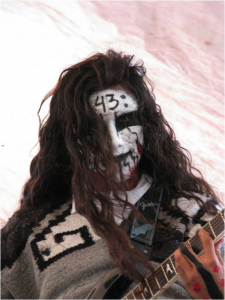 Por: Eugenia Gutiérrez. Colectivo Radio Zapatista.
25 de mayo, 2015.
Y se fue como llegó, despacio y de pronto a la vez. Caminó la noche y la lluvia hacia un amanecer distinto, pero cargando treinta años de trabajo colectivo y devolviendo honorablemente una estafeta-bastón que los pueblos indígenas zapatistas le habían entregado.
Ha pasado un año desde la muerte autoproclamada de un Subcomandante Insurgente Marcos que desenterró al maestro Galeano junto con miles de personas para darle y darse (¿darnos?) vida nueva. El desprecio vestido de sorpresa de quien no comprende lo profundo circuló un ratito en medios comerciales mientras miles de seguidores del difunto recorrían sinceramente varias de las etapas de duelo que planteara la psiquiatra Kübler-Ross, sin llegar muy claramente a la aceptación. De hecho, todavía no hemos visto pintas ni camisetas ni tuiters que acepten la decisión del Ejército Zapatista de Liberación Nacional con un contundente "tod@s fuimos Marcos". Pero las comunidades zapatistas, tan relacionadas de otro modo con la muerte, han procesado ese fallecimiento necesario, vitalizador y voluntario con el mismo respeto con que enfrentan otras muertes, las innecesarias, las que no debieron ser, no así.
Justo en ese contexto de resignificación de la muerte como vida, del cuerpo inerte como semilla, de la ausencia forzada como presencia decidida, no en la teoría sino en la práctica, se nos vino encima una cascada de dolores que pudieron haberse evitado. Como habitantes de México y del mundo, a lo largo de este año turbulento hemos recorrido un verdadero campo minado de noticias que nos han provocado un insomnio interminable. El paquete de reformas estructurales que organismos y empresas supranacionales diseñaron para México había sido firmado en tiempo y forma. Casi de inmediato, los vítores que provocó entre las élites millonarias se mezclaron con los gritos de quienes padecieron desde la pobreza los resultados violentos de ese diseño que se tragó de un trago siglos de lucha independentista y décadas de movimientos obreros, campesinos, laborales, indígenas, feministas, ecologistas, magisteriales y estudiantiles. Entonces llegó la noche de Iguala para mostrarnos de qué está hecho el sistema político y económico que nos parasita aquí y en todos lados. Pero también llegó un anuncio que apenas vamos descifrando. El zapatismo hablando de "herencia", de "legado", de cosecha para repartir en cachitos pesadísimos que se ofrecen a quien los quiera recibir en un semillero.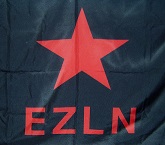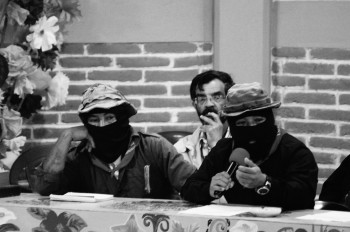 Listen here: (Descarga aquí)
The Word of Subcomandante Insurgente Moisés
May 8, 2015
Good afternoon compañeros, compañeras, brothers and sisters.
Perhaps by continuing our explanation of how resistance and rebellion are weapons for us you will better understand some of the things that our compañeros and compañeras here at the table have talked about.
Through our resistance and rebellion, we have come to understand that by putting resistance and rebellion into practice we confirm that we will not allow in our struggle what happened in 1910, when so many of our fellow Mexicans died. Who took advantage of that situation?