encuentros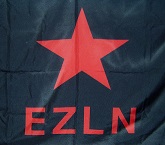 The Crack in the Wall.
First Note on Zapatista Method.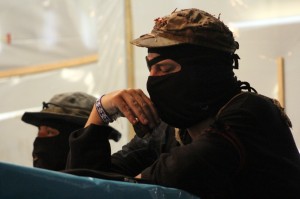 Listen here: (Descarga aquí)
May 3, 2015.
Good afternoon, good day, good night to all listening and reading, no matter your calendars and geographies.
My name is Galeano, Subcomandante Insurgente Galeano. I was born in the small hours of the morning on May 25, 2014, collectively and quite in spite of myself, and well, in spite of others also.[i] Like the rest of my Zapatista compañeras and compañeros, I cover my face whenever it is necessary that I show myself, and I take the cover off whenever I need to hide. Although I am not yet one year old, the authorities have assigned me the task of posta, of watchman or sentinel, at one of the observation posts in this rebel territory.