ejército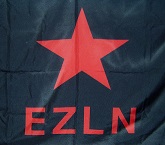 To the Nahua Indigenous Community of Santa María Ostula, Aquila, Michoacán:
To the National and International Sixth:
To the people of Mexico and the World:
July 21, 2015
Given the violent events perpetrated against the indigenous community of Santa María Ostula on July 19, 2015, by a large commando made up of members of the Federal Preventative Police, the Secretary of National Defense, and the Secretary of the Navy in which Ostula community police commander Cemeí Verdía Zepeda was detained, in which federal soldiers murdered, WITH A BULLET TO THE FACE, THE 12-YEAR-OLD CHILD EDILBERTO REYES GARCÍA, and in which the following people were injured: the child Yeimi Nataly Pineda Reyes, 6-years-old; Edith Balbino Vera; Delfino Antonio Alejo Ramos, 17-years-old; Horacio Valladares Manuel, 32-years-old; José Nicodemos Macías Zambrano, 21-years-old; and Melesio Cristino Dirzio, 60-years-old…
WE DENOUNCE:
The criminal behavior of the above listed military and police bodies and their complicity with organized crime, in this case the Knights Templar, enacted in order to escalate the war of conquest that has been waged for years now against the Nahua indigenous community of Santa María Ostula. The goal of this war of conquest is to occupy the community's territories in favor of mining and transnational tourist interests, and to punish this community for having dared to take back the land from which they had been displaced and for having defended themselves—by putting into practice their right to live—from organized crime, which today serves as the paramilitary branch of the Mexican State.
El 19 de Julio pasado, el ejército Mexicano incursiono violentamente en la comunidad Nahua de Santa María Ostula para detener a Cemeí Verdía Zepeda, líder de las autodefensas en Aquila Michoacan; el ataque del ejército Mexicano dejo 3 personas muertas, entre ellos, 2 menores de 6 y 12 años y un número indeterminado de lesionados.
Este 21 de Julio, en conferencia de prensa desde el Centro de Derechos Humanos, Miguel Agustín Pro Juárez, el "Equipo de apoyo y solidaridad con la comunidad indígena de Santa María Ostula", en compañía de Agustín Vera, vocero de la comunidad , expusieron su testimonio sobre las agresiones y hablaron sobre la detención arbitraria de Sermei, la forma en que el ejército Mexicano ataco a la comunidad lesionando a comuneros y matando a 2 menores y también hablaron sobre la traición del Gobierno Federal, a los acuerdos firmados .
Audio de la conferencia.
(Descarga aquí)
México D.F 21 de julio 2015.