despojo
Radio documentary on forced displacement in Chiapas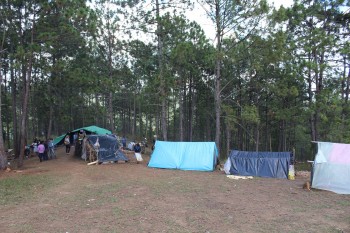 (Descarga aquí)
Víctor Hugo López is the director of the Fray Bartolomé de Las Casas Human Rights Center. In an interview with Radio Zapatista, he explains the situation of forced displacement in Chiapas.

(Descarga aquí)
(Subscribe to the NotiFrayba podcast here.)
El Grupo armado Pojcol amenaza, agrede y hostiga a comunidades zapatistas en el municipio Autónomo de San Manuel, en Chiapas, ante la omisión del gobierno de Manuel Velasco Coello.
El Centro de Derechos Humanos Fray Bartolomé de Las Casas informó que se vive una situación de tensión en la región de La Garrucha desde julio de 2014. Las amenazas se intensificaron desde enero de 2015 debido a que personas armadas provenientes de Pojcol, municipio de Chilón, Chiapas, incursionaron en la comunidad autónoma El Rosario e hicieron disparos durante algunas noches. El 12 de febrero de 2015 el grupo Pojcol destruyó el solar de un base de apoyo zapatistas y amenazó con tomar la comunidad autónoma Nuevo Paraíso.
El Frayba expresa que los actos de agresión y amenazas realizados por el "grupo de Pojcol" atentan contra el derecho a la autonomía y a la libre determinación, además de poner en riesgo la vida, seguridad e integridad personal de las bases zapatistas de las comunidades El Rosario y Nuevo Paraíso.
Publicado en:
http://chiapasdenuncia.blogspot.mx/2015/03/noti-frayba-amenazas-agresiones-y.html