CompARTE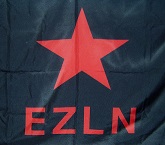 ART, RESISTANCE AND REBELLION ON THE NET
Call to join the cybernetic edition of CompArte  "Against Capital and its Walls, All the Arts"
July, 2017
Compañeroas, compañeras and compañeros of the Sixth:
Artist and non-artist sisters and brothers [hermanoas, hermanas and hermanos] of Mexico and the world:
Avatars, screennames, webmasters, bloggers, moderators, gamers, hackers, pirates, buccaneers and streaming castaways, anti-social network users, reality show antipodes, or whatever-you-call each person on the network, the web, the internet, cyberspace, virtual reality, or whatever-it's-called:
We are convoking you because there are some questions that are nagging at us:
Is another internet, that is to say another network, possible? Can one struggle there? Or is that space without precise geography already occupied, captured, coopted, tied, annulled, etceterized? Could there be resistance and rebellion there? Can one make Art on the net? What is that Art like? Can it rebel? Can Art on the net resist the tyranny of codes, passwords, spam as the default search engine, the MMORPGs [massively multiplayer online role-playing games] of the news on social networks where ignorance and stupidity win by millions of likes? Does Art on, by, and for the net trivialize and banalize the struggle, or does it potentiate it and scale it up, or it is "totally unrelated, my friend, it's art, not a militant cell"? Can Art on the net claw at the walls of Capital and damage it with a crack, or deepen and persist in those that already exist? Can Art on, by, and for the net resist not only the logic of Capital, but also the logic of "distinguished" Art, "real art"? Is the virtual also virtual in its creations? Is the bit the raw material of its creation? Is it created by an individual? Where is the arrogant tribunal that, on the Net, dictates what is and what is not Art? Does Capital consider Art on, by, and for the net to be cyberterrorism, cyberdelincuency? Is the Net a space of domination, domestication, hegemony and homogeneity? Or is it a space in dispute, in struggle? Can we speak of a digital materialism?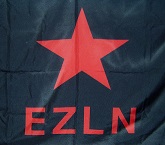 ASISTE al CompArte por la Humanidad 2017
CIDECI-Unitierra del 23 al 27 de julio
Oventik el 28 y 29 de julio
Regístrate en la cuenta:
asistentescomparte2017@ezln.org.mx
Habrá música, danza, artes plásticas, teatro
***TODAS LAS ARTES***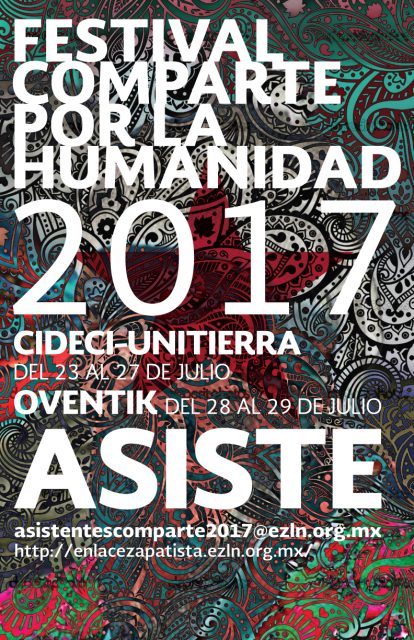 Fuente:
Enlace Zapatista