The Other Campaign New York Storms into the Mexican Consulate
DIRECT ACTION AT MEXICAN CONSULATE IN NEW YORK FOR THE LIBERATION OF PATISHTÁN AND SÁNTIZ LÓPEZ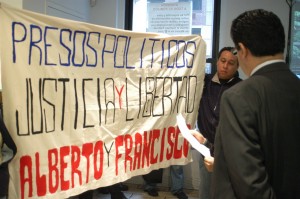 Immigrant Mexican members of Movement for Justice in El Barrio demand freedom for Patishán and Sántiz López before Mexican Consul
Today being the penultimate day of the "Week of Worldwide Struggle for the Liberation of Patishtán and Sántiz López: Bringing Down the Prison Walls," mexican members of Movement for Justice in El Barrio, The Other Campaign New York stormed the General Consulate of Mexico in New York City to demand the immediate release of our compañeros Alberto Patishtán Gómez and Francisco Sántiz López.
After passing through the pack of security guards, which has become a common feature of New York's Mexican Consulate, we managed to enter the main space, where we insisted to speak face-to-face with the Consul and have him listen to our just demands.
Initially the employees refused to attend to us, and stated that the Consul was not in the office today and that, even if he were, it was not possible to meet with more than one person at a time. As a leaderless organization, we insisted that it was necessary for him to address us as a group, since in addition to it being our right to be present, we work collectively and without hierarchies. Obviously this is a practice that is completely foreign to the bad governments.
Shortly thereafter several employees and security guards came out aggressively and began to harass us. Repeatedly, they attempted to remove us by force, in some cases physically, due to our alleged disturbance, which they claimed, prevented them from continuing their work. Their complaints and frustration with us mounted. At one point, they shut down the front entrance and did not allow people to enter, despite the cold pouring rain. At this point, one furious employee attempted to grab a few of us and run us off without reason.
All of this took place before numerous Mexican immigrants–to whom we handed out fliers with information concerning Patishtán and Sántiz López and the national and international struggle to free them.
This is how the fleeting conflict between us transpired. Ultimately, after much insistence on our part and remaining firm, we outlasted their flimsy excuses and physical aggression.
Once the consul arrived, we read him a letter we wrote that denounced the unjust incarceration of our compañeros Alberto and Francisco and the economic and political conditions that promote political repression, especially against indigenous peoples, in our country. As a backdrop, a large banner was held behind him, which reiterated our demand: "Justice and Freedom for Alberto and Francisco!"
We held the attention of everyone in the room at that moment, and during this deep silence, we echoed the dignified call from Chiapas to release our two prisoners.
We will continue disseminating the truth and hope. We will continue fighting as dignified people, from below and to the left, so that Patishtán and Sántiz López may be freed. Dignified communities standing in solidarity with each other will always be our strength.