NotiFrayba: For Mother Earth and Peoples' Lives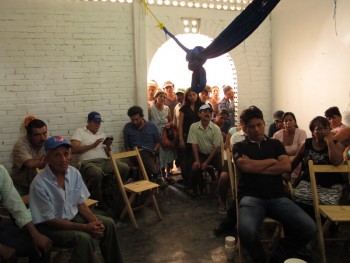 Foto: Rechazo a proyectos de explotación de hidrocarburos en Tecpatán, noviembre 2016
(Descarga aquí)
(To subscribe to the NotiFrayba podcast, click here:


)
Zoques communities reject hydrocarbon exploration projects
Communities and ejidos from the municipalities of Tecpatán and Francisco León, Chiapas, reject hydrocarbon exploration and exploitation projects in their territories. Through a communiqué dated 6 October 2016, they informed that in assemblies they decided to defend the Mother Earth and their culture as Zoque peoples. On 31 October, at the municipal seat of Tecpatán, approximately 1,500 people marched in rejection of the structural reforms and for an end to the imposition of hydrocarbon projects.
Mega-pilgrimate in defense of Mother Earth and for people's life with dignity
The Movement for the Defense of Life and Territory, made up by Pueblo Creyente from 11 municipalities of the Tseltal, Tsotsil and Ch'ol peoples from Chiapas, invites to participate in a mega-pilgrimage to denounce the death projects that are entering our communities and that damage our identity as indigenous peoples. From 15 to 25 November, from Salto de Agua to San Cristóbal de Las Casas.