The Sixth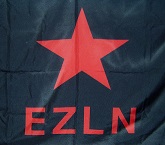 Convocation to the Events:
"Zapata Lives, Samir Lives, The Struggle Continues"
on the 100thAnniversary of the Assassination of General Emiliano Zapata Salazar
Given that:
Our brother Samir Flores Soberanes was murdered by the neoliberal regime—we don't know if it was the government, big business, their criminal cartels, or all three together.
The so-called "Fourth Transformation" began with Miguel de la Madrid Hurtado, was intensified by Carlos Salinas de Gortari, continued as a war of conquest by Ernesto Zedillo Ponce de León, Vicente Fox Quezada, Felipe Calderón Hinojosa, and Enrique Peña Nieto; and is now extended through the long-term project of Andrés Manuel López Obrador and the Party of National Regeneration [MORENA]. For the originary peoples, the only "real change" will be an increase in lies, tricks, persecution, threats, imprisonment, displacement, murder, mockery and disrespect, human exploitation and natural destruction—in sum, the annihilation of the collective life that we are.
The current neoliberal government headed by Andrés Manuel López Obrador has its sights set on our peoples and territories. Using its "National Institute for Indigenous Peoples", it has put into place a web of cooptation and disorganization that clears the way for a war whose principal front will be industrialization. This war will be implemented via infrastructure projects and violence and backed by the armed forces and the soon-to-be National Guard, casting a dark shadow of death and destruction over the originary peoples of our country.
We restate our firm opposition to the neoliberal policies of old and new governments; to the referendums or whatever they choose to call them whose only purpose is our displacement from and dispossession of our territories; to mining, to the damming of our rivers, to highway construction and the acceleration of real estate speculation throughout our lands, to the construction of neoliberal megaprojects of death like the Integral Project for Morelos, the Trans-isthmus Corridor, and the Mayan Train.
We have not forgotten that the struggle led by General Emiliano Zapata Salazar and the Liberation Army of the South and Center represented and continues to represent the interests and aspirations of our peoples and of millions of the exploited in Mexico and the world. This upcoming April 10 is the 100thanniversary of the cowardly murder of General Emiliano Zapata Salazar by the political regime that, despite its "transformations", continues to govern today.
Given this, we convoke a National Assembly of the indigenous peoples of the National Indigenous Congress/ Indigenous Governing Council, adherents to the Sixth Declaration of the Lacandón Jungle, the Support Networks for the Indigenous Governing Council, and collectives and organizations organized in struggle against capitalism, to take place on April 9 of this year in the indigenous community of Amilcingo, municipality of Temoac, Morelos, from 10:00am-6:00pm.
We also convoke a national and international mobilization to mark the 100th anniversary of the murder of General Emiliano Zapata Salazar. The mobilization's epicenter will be Chinameca, Morelos, on April 10, 2019, beginning at 9:00am.
The schedule of activities will be published shortly.
(Continuar leyendo…)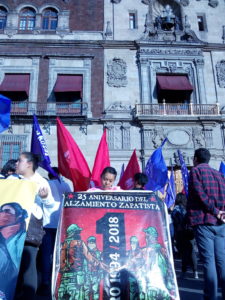 Jornada de movilización global contra los proyectos de destrucción y en defensa de la madre tierra, CDMX. Foto: RZ.
Mensaje para el EZLN de la
COORDINACIÓN METROPOLITANA ANTICAPITALISTA Y ANTIPATRIARCAL CON EL CIG Y SU VOCERA MARICHUY
"PODRÁN CAMBIAR EL CAPATAZ, LOS MAYORDOMOS Y CAPORALES, PERO EL FINQUERO SIGUE SIENDO EL MISMO"
(Leído por la compañera Vica el viernes 25 de enero de 2019 en el zócalo de la Ciudad de México)
L@S ZAPATISTAS NO ESTÁN SOL@S
JORNADA DE MOVILIZACIÓN GLOBAL CONTRA LOS PROYECTOS DESTRUCCIÓN Y EN DEFENSA DE LA MADRE TIERRA.
 Al CCRI CG EZLN
Al Ejército Zapatista de Liberación Nacional.
A la Comisión Sexta del EZLN.
Al Concejo Indígena de Gobierno y su vocera, María de Jesús Patricio Martínez.
Al Congreso Nacional Indígena.
A la Sexta Nacional e Internacional.
Al Encuentro Internacional de "Redes de Resistencia y Rebeldías" en apoyo al Concejo Indígena de Gobierno.
A quienes se asumen anticapitalistas y antipatriarcales.
A los medios de comunicación, independientes, alternativos o como se llamen.
A las Resistencias y Rebeldías en todo el mundo
Al pueblo de México.
Hermanas y Hermanos.
En defensa de la vida y en defensa de la Madre Tierra: el EZLN no está solo.
…
Por más que intenten humillarnos con todas las fuerzas represivas, como es la guardia nacional, no descansaremos en defender nuestra madre tierra, porque en ella nacimos, porque en ella vivimos y en ella moriremos.
 En estas tierras de hombres y mujeres rebeldes, deben saber que no nos rendimos, no nos vendemos y no claudicamos, ni mucho menos traicionaremos  la sangre, la vida y la muerte de nuestros compañeros caídos en nuestra lucha.
…
Palabras del Comité Clandestino Revolucionario Indígena.
1° de enero de 2019
Estamos con ell@s contra el capitalismo y los proyectos de destrucción.
El pasado 1º de de enero, a 25 años del levantamiento armado del Ejército Zapatista de Liberación Nacional por Democracia, Libertad y Justicia para tod@s l@s mexican@s; justo cuando entraba en vigor el Tratado de Libre Comercio de América del Norte y, después de 12 días de conflicto armado entre el EZLN y el Ejército Federal, cientos de miles de hombres y mujeres en México y el mundo tomamos las calles para exigir un "ALTO TOTAL A LA GUERRA". El 12 de enero de 1994, se declaró oficialmente, un "cese al fuego" y se establecieron mesas de diálogo para negociar con los zapatistas. Sin embargo, 25 años después, frente al capitalismo que impone despojo y destrucción, señalan, que "llegó la hora para nosotros los pueblos zapatistas". Ante esta declaración ratificamos nuestros andar, nuestro paso digno y rebelde junto a nuestros hermanos del EZLN y les decimos una vez más, que ¡No Están Solos!, que estamos con ell@s contra el capitalismo y el patriarcado.