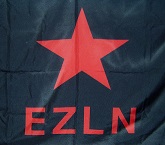 Organized Coffee Against the Wall
Subcomandante Insurgente Moisés
Seminar "The Walls of Capital, the Cracks of the Left"
Cideci / Universidad de la Tierra Chiapas
13 April 2017
(Descarga aquí)
Good afternoon or good morning to those who are listening to us around the world.
What I'm going to talk about, compañeros, compañeras, brothers and sisters who are present here and those who watch us from elsewhere… what I'm going to talk to you about is not what I think, but rather what the compañeras and compañeras who make up the Zapatista Army for National Liberation bases of support think.
We compañeras and compañeras here in front [members of the EZLN comandancia] understand that we serve as support for the thousands of compañeras who are bases of support; we support the thousands of compañeros who are bases of support. That's how we've defined it lately because we pass along to them what we see, what we hear, what we come to know. And what is it that we have come to know or hear about? Trump's wall.
When we started hearing about this, when we began to understand what was going on, we met with the compañeras and compañeros of the Indigenous Revolutionary Clandestine Committee [CCRI] and began to discuss what is happening to our migrant brothers and sisters who are in the United States.
Los muros del capital, las grietas de la izquierda
12 de abril de 2017
San Cristóbal de Las Casas
Cideci / Universidad de la Tierra Chiapas
"ABRIL TAMBIÉN ES MAÑANA"
Campaña Mundial "Contra los muros de arriba las grietas de abajo y a la izquierda"
Seminario de Reflexión Crítica Los muros del capital, las grietas de la izquierda
Día 1
Miercoles 12 de abril, Cideci-Unitierra Chiapas. Es el primer día del Seminario-Encuentro, para la reflexión, para compartir el pensamiento crítico sobre los muros y las grietas. Comandantes y comandantas acompañaron la mesa al Subcomandante Insurgente Moisés, jefe y vocero del EZLN, y al Subcomandante Insurgente Galeano, que tuvo como invitado a Don Pablo González Casanova, para darle un abrazo colectivo a quien consideran un compañero, "nos enorgullece la compañía de su paso, su palabra crítica y sobre todo su compromiso sin tibiezas, ni dobleces".
Como parte del inicio, tomaron la palabra las comandantas zapatistas, la palabra chol de la comandanta Amada, la palabra tojolabal de la comandanta Everilda , la palabra tsotsil la comandanta Yesica, la palabra tseltal de la comandanta Miriam, y la palabra castilla de la comandanta Dalia, que dijo "chinga tu madre Trump". "Fuck Trump" en traducción de Galeano.
Continuó la palabra del Subcomandante Insurgente Moisés, jefe y vocero del EZLN, previa intervención del Subcomandante Insurgente Galeano, que abrió la reflexión con el Preludio: "Los relojes, el apocalipsis y la hora de lo pequeño". Un reloj de arena zapatista…
Y en esta reflexión, otra plática, la de Galeano y Marcos Entre la luz y la sombra, sobre los personajes, el que moría, pero también otro de ellos, Don Durito. El significado del personaje, "la liga entre el escarabajo y los indígenas zapatistas", se encuentra en la intervención del Subcomandante Insurgente Moisés para dar la explicación de Por qué el mundo capitalista semeja una finca amurallada.
EL Sup Moisés compartió la historia de las abuelas y abuelos sobre la experiencia de esclavitud en la finca, su estructura de mando de Patrón-Caporal-Mayordomos-Capataces, similar a la estructura gubernamental, subordinada al mando del capital, su patrón. El modo en que fueron explotados y violentados, su régimen económico y político. Pero también el modo en cómo resistieron y se rebelaron, de manera colectiva, la posibilidad. "Sí hay como" llevar a cabo la transformación hacia la libertad frente el capitalismo quiere convertir en su finca al Mundo, como lo expuso.
Tomó nuevamente la palabra el Subcomandante Insurgente Galeano para reflexionar que Abril también es mañana. La ciencia social del mundo bipolar de mitad del siglo XX, el análisis de la realidad social, la derrota de la inteligencia y el pensamiento crítico. Pero llegó Cuba, Fidel-CUBA, el pueblo y su Revolución que se extendió en la geografía mundial. Playa Girón, una grieta en el muro del capital que "nos enseñó que el grande y poderoso puede ser derrotado por el pequeño y débil cuando hay resistencia organizada, necio empeño y horizonte". El derecho del pueblo, el soberano para decidir sobre su régimen de gobierno y su Libertad.
Las trasmisiones se podrán sintonizar en vivo a través de: http://enlacezapatista.ezln.org.mx/
Subcomandante Insurgente Galeano – Preludio: "Los relojes del Apocalipsis y la hora de lo pequeño":
(Descarga aquí)
Palabras del Subcomandante Insurgente Moisés:
(Descarga aquí)
Subcomandante Insurgente Galeano – "Kagemusha: Abril también es mañana":
(Descarga aquí)
En el inicio del seminario y de la campaña mundial "Los muros del capital, las grietas de la izquierda", lxs zapatistas han puesto sobre la mesa el secreto de su método.  Para sobrevivir al mundo contemporáneo que vuelve a ser una suma de fincas amuralladas con sus nuevos castigos, capataces, mayordomos, caporales y psicóticos asesinos, el subcomandante insurgente Móises ha recordado las palabras de nuestros abuelos, quienes cuentan que  en algún momento decidieron cambiar su modo de luchar y detener la explotación. Decidieron, nos ha contado Moisés, dejar de recibir los chicotazos por separado para hacerlo en colectivo. En lasmemorias y experiencias compartidas esta noche brotaron las carcajadas de Tacho y Zebedeo hace 21 años en San Andrés ante la crítica de los negociadores gubernamentales por usar relojes occidentales,los poemas de"Los versos del capitán" de Neruda, Mercedes Sosa cantando "Todo cambia", y la arena de Playa Girón, esa gran grieta en el muro que hizo nacer tantísimas grietas más. Y también el secreto:  aún más en tiempos apocalípticos, el reloj de los zapatistas elude ser lineal, exacto y digital como el de la izquierda ilustrada institucional porque el zapatista es un tiempo –ha dicho el subGaleano- poco práctico, irreverente e incómodo que les da la ventaja de poder ver el tiempo pasado y el tiempo que viene. En tiempos apocalípticos lxs zapatistas ven en su reloj con arena de playa Girón que, como en aquel abril de hace 56 años, Cuba, los pueblos originarios y la humanidad pervivirán. Además, han apuntado ya en el inicio del seminario que el apocalipsis no es la pregunta ni el espejo sino nuestras respuestas, y que es en ellas dónde el mundo o se acaba o comienza. Como un reloj de arena…