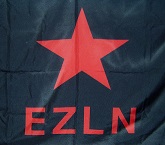 The Walls Above, The Cracks Below
(And To The Left)
February 2017
The Storm On Our Path
For us, as Zapatista originary peoples, the storm—the war—has been going on for centuries. It arrived to our lands with the lies of the dominant civilization and religion. At that time, the sword and the cross bled our people dry.
Over time, the sword was modernized and the cross was dethroned by the religion of capital, but it continued to demand our blood as an offering to the new god: money.
We resisted, we always resist. Our rebellions were displaced by the dispute between various forces for Power. Those forces, always from above, demanded that we struggle and die to serve them. They demanded obedience and submission under the guise of liberating us. Like those who said and say they fight, they came and come to rule. There were supposed independences and false revolutions, those past and those to come.
Since then, those above have taken turns and continue to take turns in order to govern, badly, or aspire to do so. In past and present calendars, their proposal continues to be the same: that we offer our blood, while they lead or pretend to lead.
Before and now, they forget those of us who do not forget.
And always, yesterday and today, the woman is below, even in the collective that we were and are.

El Rincón Zapatista
y la Cafetería Comandanta Ramona
Invitan al evento político cultural
Música en vivo y lectura de textos relacionados
con la propuesta del CNI-EZLN
El sábado 18 de febrero a las 17:00 horas
En Zapotecos 7, Colonia Obrera.
Cerca de los metros Isabel la Católica y Doctores.
¡JUSTICIA PARA AYOTZINAPA!
¡VIVAN LAS COMUNIDADES AUTÓNOMAS ZAPATISTAS!
¡LIBERTAD A LOS PRESOS POLÍTICOS!
¡VIVA EL EZLN!