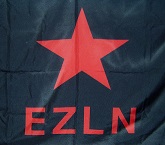 ESCUADRÓN 421.
(La delegación marítima zapatista).
Abril del 2021.
¿Calendario?  Una madrugada del cuarto mes.  ¿Geografía?  Las montañas del sureste mexicano.  Un silencio repentino se impone a los grillos, al ladrido disperso y lejano de los perros, al eco de una música de marimba.  Aquí, en las entrañas de los cerros, un susurro más que un ronquido.  Si no estuviéramos donde estamos, podría pensarse que es un rumor de mar abierto.  No las olas reventando contra la costa, la playa, el acantilado acotado con un tajo caprichoso.  No, algo más.  Y entonces… un largo quejido y un temblor intempestivo, breve.
La montaña se alza.  Se arremanga, con pudor, un poco las naguas.  No sin trabajos, arranca sus pies de la tierra.  Da el primer paso con un gesto de dolor.  Ahora le sangran las plantas a esta montaña pequeña, lejana de los mapas, los destinos turísticos y las catástrofes.  Pero aquí todo es complicidad, así que una lluvia anacrónica le lava los pies y, con lodo, le cura las heridas.
"Cuídate hija", le dice la Ceiba madre.  "Ánimo", habla el huapác como consigo mismo.  El pájaro tapacamino la guía.  "Al oriente, amiga, al oriente", dice mientras brinca de un lado a otro.
Vestida de árboles, aves y piedras, camina la montaña.  Y a su paso, se agarran a los bordes de su nagua, hombres, mujeres, quienes no son ni las unas ni los otros, niñas y niños somnolientos.  Van trepando por su blusa, coronan la punta de sus pechos, siguen a sus hombros y, ya sobre lo alto de su cabellera, despiertan.
Al oriente el sol, apenas asomado al horizonte, detiene un poco su necia y cotidiana ronda.  Le ha parecido ver que una montaña, con una corona de seres humanos, camina.  Pero más allá del sol y de unas nubes grises que la noche dejó olvidadas, nadie aquí parece sorprenderse.
"De por sí así estaba escrito", dice el Viejo Antonio mientras afila el machete de doble filo, y la Doña Juanita asiente con un suspiro.
En el fogón huele a café y a maíz cocido.  En la radio comunitaria se escucha una cumbia.  La letra habla de una leyenda imposible: una montaña navegando a contrapelo de la historia.
-*-
Siete personas, siete zapatistas, forman la fracción marítima de la delegación que visitará Europa.  Cuatro son mujeres, dos son varones y unoa es otroa.  4, 2, 1.  El escuadrón 421 se encuentra ya acuartelado en el llamado "Centro de Adiestramiento Marítimo-Terrestre Zapatista", ubicado en el Semillero Comandanta Ramona de la zona Tzotz Choj.
No fue fácil.  Más bien, ha sido tortuoso.  Para llegar a este calendario, hubimos de enfrentar reparos, consejos, desalientos, llamados a la mesura y a la prudencia, francos sabotajes, mentiras, malhabladas, recuentos detallados de las dificultades, chismes e insolencias, y una frase repetida hasta el asco: "eso que quieren hacer es muy difícil, por no decir imposible"  Y, claro, diciéndonos, ordenándonos, lo que debíamos y no hacer.  Todo eso, en este y el otro lado del océano.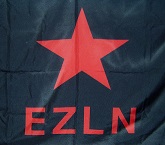 Traducione Italiano (Italiano)
Türkçe çeviri (Turco)
Ελληνική μετάφραση (Griego)
Nederlandse Vertaling (Holandés)
Tradução em portugês (Portugués)
Deutsch Übersetzung (Alemán)
Original en español (Español)
Traduction en Français (Francés)
فارسی (Farsí)
Journey to Europe…
Sixth Commission of the EZLN
Mexico
April 10, 2021
To the people, groups, collectives, organizations, movements, coordinating bodies, and indigenous peoples in Europe that await our visit:
To the Sixth in Mexico and abroad:
To the networks in resistance and rebellion:
To the National Indigenous Congress:
To the peoples of the world:
Brothers, sisters, and compañer@s:
On April 10, 2021, the compañer@s who make up the first delegation of our Journey for Life, European Chapter, gathered together at the "Semillero Comandanta Ramona" to begin their voyage across the ocean.
During a small ceremony held in accord with our customs and practices, the delegation received the mandate of the Zapatista people to carry our thought far and wide, that is, to share what is in our hearts. Our delegates carry with them a big heart, not just to embrace those on the European continent who are in rebellion and resistance, but also to listen and learn from their histories, geographies, calendars, and ways of being.
This first group will remain in quarantine for 15 days, isolated in the Semillero to make sure that no one is infected with COVID-19 and also so that they can prepare themselves for the time that it will take to cross the ocean. During these two weeks, they will be living in a replica of the boat that was built in the Semillero for that purpose.
On April 26, 2021, they will leave for a port in the Mexican Republic, arriving no later than April 30, and board the boat that we have named "The Mountain." For two or three days and nights, they will remain on board the boat, and on May 3, 2021, the day of Saint Cruz, Chan Santa Cruz, "The Mountain" will set sail with our companer@s toward the coast of Europe on a journey estimated to take 6 to 8 weeks. They are expected to land on the European coast during the second half of June, 2021.
Beginning on April 15, 2021, our companer@s who are bases of support from 12 different Zapatistas municipalities will hold activities to send off the Zapatista delegation that will travel across land and water to that geography called "Europe."
During this part of what we have called the "Journey for Life, European Chapter," the Zapatista delegates will meet with those who have invited us to discuss our shared histories, pain, rage, successes, and failures. Up until now, we have received and accepted invitations from the following places:
Germany
Austria
Belgium
Bulgaria
Catalonia
Sardinia
Cyprus
Croatia
Denmark
Slovenia
Spain
France
Greece
Holland
Hungary
Italy
Luxembourg
Norway
Basque Country
Poland
Portugal
United Kingdom
Romania
Russia
Serbia
Sweden
Switzerland
Turkey
-*-
Starting on that day, Subcomandante Insurgente Galeano will be publishing a series of texts in which we will share who makes up the Zapatista maritime delegation, the work that they have done, some of the problems that they have faced, and so on.
In conclusion: we are off on our journey to Europe.
That's all for now.
From the mountains of the Mexican Southeast
Subcomandante Insurgente Moisés
Sixth Commission of the EZLN
Mexico, April 2021