zapatistas

Source: Revista Runas – Journal Of Education and Culture
By Carolina Elizabeth Díaz Iñigo* and Francisco De Parres Gómez**
ABSTRACT
This article addresses the relationship between Zapatista critical pedagogy and the epistemic and emotional resistance that make it possible. In this sense, in the first part, we develop the relevance of emotions as a concomitant part of the coloniality of affectivity in the framework of the coloniality of power. Subsequently, we will analyze three examples of the epistemic and emotional resistance of Zapatista communities: 1) Zapatista autonomous education; 2) the participation of women bases of support; and finally, 3) the public events organized by the Zapatista Army of National Liberation (EZLN in Spanish). All of this, as part of the construction of other meanings around education, not only within the Zapatista movement but also outside the communities.
Por Daliri Oropeza | Pie de Página
Miles de personas se reunieron con artes y protestas en la convocatoria zapatista mundial contra las guerras injustas del capital, a propósito de la invasión de Rusia en Ucrania. Llaman a una lucha por todos los pueblos del mundo, dan cuenta de la sensibilidad adquirida con la Travesía por la Vida en Europa
Twitter: @Dal_air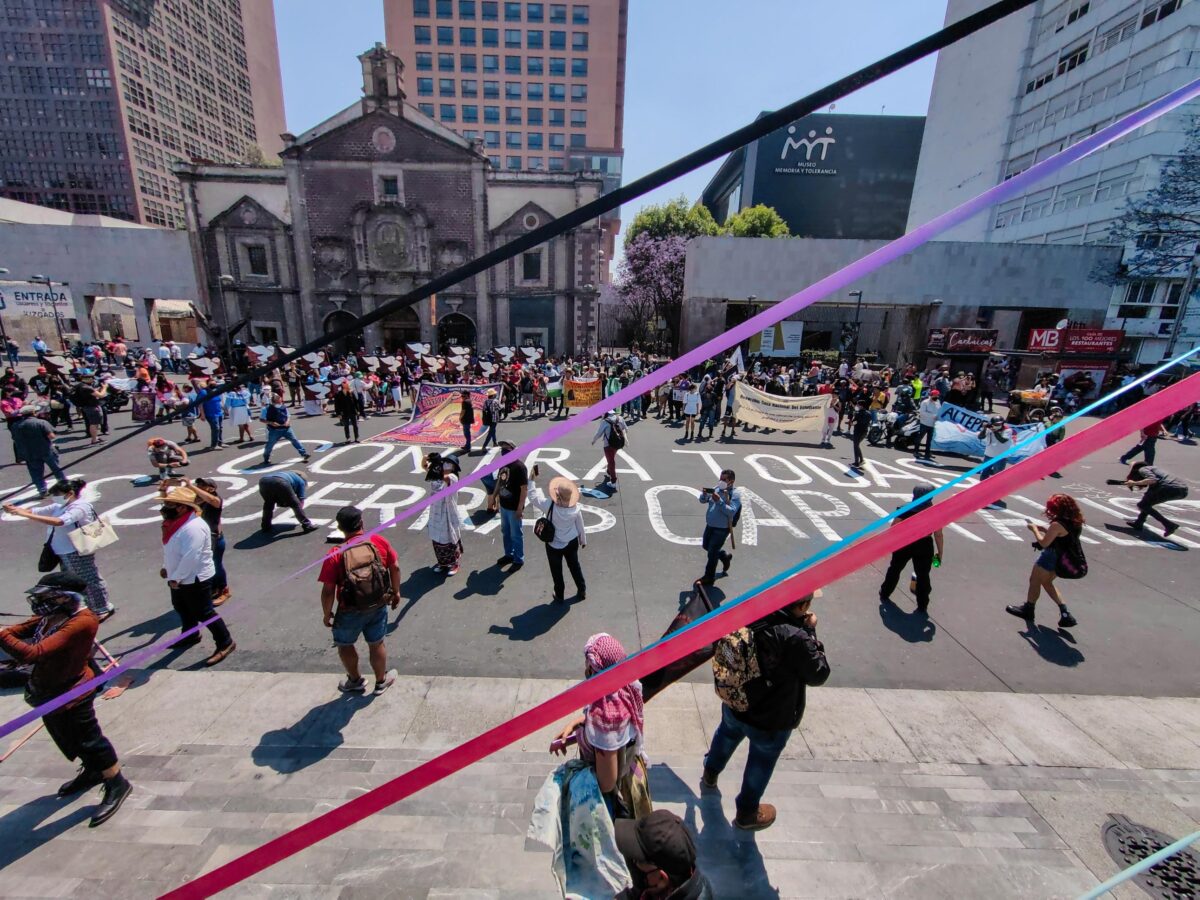 Vuelan listones coloridos en el cielo abierto y azul. En medio de un festival de artes por la paz, con el sol que calienta como si ya fuera primavera, resuena un mensaje contra todas las guerras injustas. Miles llegan de una marcha que interrumpió el paseo ciclista dominical con consignas anticapitalistas. El hemiciclo a Juárez está intervenido, a pesar de las vallas, colorido entre las jacarandás moradas y los mensajes rojinegros.
"Nos sumamos al llamado zapatista de iniciar un proceso de organización y participación para realizar una campaña mundial en contra de las guerras del capital, cualquiera que sea nuestra geografía, organizaremos conciertos, encuentros, festivales, reuniones. Todas las artes contra todas las guerras", dice en el micrófono el sociólogo activista Raúl Romero.