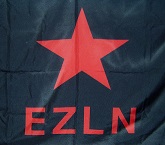 COMMUNIQUE FROM THE CNI-CIG AND THE EZLN ON THE COWARDLY KIDNAPPING AND MURDER OF COMPAÑEROS FROM THE EMILIANO ZAPATA POPULAR INDIGENOUS COUNCIL OF GUERRERO
The National Indigenous Congress [CNI], the Indigenous Governing Council [CIG], and the Zapatista Army for National Liberation [EZLN] condemn with pain and rage the kidnapping and murders of José Lucio Bartolo Faustino, CIG council member from the Nahua indigenous community of Xicotlán, and Modesto Verales Sebastián, delegate of the National Indigenous Congress from the Nahua indigenous community of Buenavista. Both were part of the Emiliano Zapata Popular Indigenous Council of Guerrero [CIPOG-EZ], which is a member organization of the CNI-CIG. This crime was carried out by narco-paramilitary groups who operate in the municipality of Chilapa de Álvarez and who are protected by the Mexican Army as well as by municipal and state police.
At 3pm yesterday, May 4, our compañeros were attending a meeting with other members of the CIPOG-EZ in Chilpancingo, Guerrero. On their way back to their communities they were kidnapped and murdered by these narco-paramilitary groups which operate with total complicity and protection from all three levels of the bad government, which pretend to address the indigenous communities' demands for security and justice. The indigenous communities have repeatedly denounced to the federal government the impunity with which the criminal Celso Ortega wages violence against them. It is important to mention that our murdered compañeros and their communities have for years been organizing their own Community Police in order to resist the violence, extortion, and poppy cultivation imposed by two criminal groups in the area, Los Ardillos and Los Rojos. These two groups control municipal presidencies across the region and are protected by the Mexican army and the municipal and state police. At one point they even managed to get one of their leaders named president of the Guerrero State Congress.
We hold all three levels of bad government responsible for this cowardly crime as they have been complicit in repressing our peoples' organization in defense of their territories. We also hold the bad government responsible for the safety and security of our brothers and sisters of the CIPOG-EZ.
As the National Indigenous Congress-Indigenous Governing Council and the Zapatista Army for National Liberation, we send our collective embrace and solidarity to the family members and compañeros of José Lucio Bartolo Faustino and Modesto Verales Sebastián, and we share with them our commitment to continue this path of autonomy and dignity for which our fallen compañeros provide a light and an example.
We denounce the intensification of neoliberal repression against the originary peoples, nations, and tribes who do not consent to these projects of death in Guerrero and in all of Mexico, nor to the violence which is used to impose these projects and to repress, kidnap, disappear, and murder those of us who have decided to sow a new world from the indigenous geographies that we are.
We demand justice for our compañeros.
Attentively
May 2019
For the Full Reconstitution of Our Peoples
Never Again a Mexico Without Us
National Indigenous Congress
Indigenous Governing Council
Zapatista Army for National Liberation

Source: Enlace Zapatista

A los colectivos y adherentes a las Sexta Declaración de la Selva Lacandona,
A las Redes de Apoyo al Congreso Nacional Indígena y al Concejo Indígena de Gobierno,
A las Redes de Resistencia y Rebeldía,
A la Red Contra la Represión y la Solidaridad,
A los Medios Libres, Autónomos o cómo se llamen,
A las organizaciones, los colectivos e individuos que luchan contra el capitalismo,
Al digno y Conciente Pueblo de México,
Compañeros y compañeras
Hermanos y hermanas:
Queremos comunicarles que nos encontramos profundamente preocupadas por el contexto de guerra, represión, acoso militar y paramilitar que enfrentan las comunidades autónomas, bases de apoyo e integrantes del Ejército Zapatista de Liberación Nacional, como parte de la política contrainsurgente impuesta por mal gobierno y su actual administración encabezada por el partido MORENA y Andrés Manuel López Obrador.
Sabemos que esta guerra es la continuación de una política de despojo que pretende arrebatar las tierras a las comunidades indígenas, para entregarlas a los empresarios e imponer sus megaproyectos y sus trenes del despojo como son el "Tren Maya", el "Corredor Transístmico", el "Proyecto Integral Morelos", la "Guardia Nacional" y las "Zonas Económicas Especiales"
Tenemos claro que la principal estrategia y argumento del sistema capitalista y de los malos gobiernos es y ha sido siempre la represión, la persecución y la guerra en contra de los pueblos dignos y rebeldes, que resisten a las políticas de robo, saqueo y explotación.
Tampoco olvidamos que los pueblos construyen la resistencia desde la organización, la solidaridad, el apoyo mutuo y el compañerismo. Es por eso que los convocamos a una reunión organizativa, para que en unidad y cada quien sus modos y sus tiempos podamos construir y coordinar una Campaña permanente de solidaridad con los pueblos del EZLN y el CNI, que tenga como principales tareas visibilizar y denunciar la guerra contrainsurgente y el despojo de los megaproyectos, que afecta a las comunidades zapatistas y del CNI.
La reunión se llevará a cabo elmiércoles 8 de mayo de 2019, a las 5:30pm en el Foro José Revueltas, FFYL, CU.
Sin más por el momento, esperamos contar con su presencia, reciban un abrazo fraterno.
Red de Mujeres que Luchan "Porque acordamos vivir"
Mujeres y la Sexta
Redmyc Zapatista
1 de Mayo de 2019
porqueacordamosvivir@gmail.com
mujeresyla6a@yahoo.com.mx
5554353824
FB Porque Acordamos Vivir