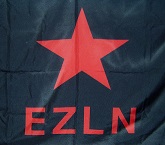 Adagio-Allegro Molto in E minor: A Possible Reality
(from the Notebook of the Cat-Dog)
"As you know, madness is like gravity…all it takes is a little push."
The Joker in the role of Heath Ledger (or was it the reverse?)
Nobody knows for sure how it all started. Not even the Tercios Compas [Zapatista media], who took up the task of reconstructing the sequence of events, could pinpoint the exact moment and event in which the story I'm about to tell you began.
According to one version, SubGaleano is responsible for everything. Others say SubGaleano only started it and it was Subcomandante Insurgente Moisés who took it to completion.
See, what happened was that in one of his texts, SubGaleano mentioned a February 2011 program in which the journalist Carmen Aristegui asked if then-president Felipe Calderón Hinojosa was an alcoholic, and added that the nation should be informed about the health of the president. She was fired in retaliation. Up to that point in the story there is no disagreement—and you can confirm that's what happened by referring to news articles from that time.
The problem really begins when SubGaleano added something like, "Madness, as pointed out by a misunderstood sage of the human soul, is like gravity: all it takes is a little push. To hold Power unlawfully is just that irresistible push that all those above long for, and it begins with three simple words, "I rule here." If you think anyone in the media is going to question whether the current president is lacking in any of his mental faculties (let's be clear, he didn't say "crazy"), don't hold your breath, because nobody will dare to do so."
PLANET EARTH, June 24, 2019
To the Zapatista Army of National Liberation
To the National Indigenous Congress
To the Indigenous Governing Council
To the Women of the CNI-CIG
To the Women who Struggle
To the CIG Support Networks
To the Networks of Resistance and Rebellion
To the National and International Sixth
To the Media
We who subscribe this letter – workers in the social sciences, the arts and the humanities, activists and feminists – we come together to express our genuine concern for what is happening in Mexico and specifically for what is happening in Chiapas and in the indigenous regions where the Zapatistas, members of the original people, tribes and nations that are part of the National Indigenous Congress (CNI) live.
The incarnate struggle of resistance against capitalism, machismo and patriarchy of the Zapatistas and the National Indigenous Congress (CNI) have inspired and continues to inspire us. Their struggle is like a mirror where we can reflect, that encourages us to walk in an incarnated way, in our own places, times and ways, in our own struggles for autonomy and against all those dominations, violences, dispossessions, discriminations and exploitations that manifest in a thousand forms in indigenous and not indigenous territories.
We are actively awaiting and walking in many places and sharing what we have (un)learned looking at your 25 and 500 years of collective resistances.
We add our voice to those who affirm that the current Mexican government's strategy is one strategy of war more than for security and we agree with the criticisms against ongoing Mexican nationalist development projects for the Mayan region and the Tehuantepec Isthmus (Istmo de Tehuantepec). We are outraged by the murder of women, young people; and indigenous and black communities' leaders in México and all over Abya Yala.
All of this not only worries us, but also encourages us to carry out different actions in different spaces as our incarnate support to the Jornadas por la Vida contra la Guerra (Campaign for Life and against the War).
That is why we shout with a strong collective voice: !The war against the Zapatistas, the CNI members and the indigenous and black peoples of all over Abya Yala, must stop now!