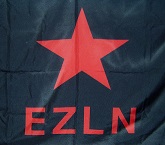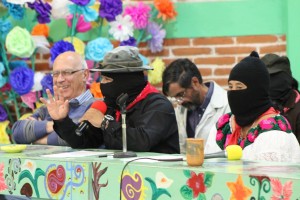 Listen here: (Descarga aquí)
Words of Subcomandante Insurgente Moisés
May 6, 2015
Good afternoon, compañeros, compañeras, brothers and sisters.
I am going to talk to you about how our resistance and rebellion are our weapons.
Before we begin talking about resistance and rebellion, I want to remind you that we are an armed group. We have our weapons, as one more tool in the struggle, that's how we explain it now. Our weapons are a tool of struggle, just like the machete, axe, hammer, pick, shovel, hoe, and other such things. Each of these tools has its function, but the function of a weapon, well, if you use it, you kill.
So in the beginning, when we rose up at the dawn of the year 1994, a movement of thousands of Mexicans from all over the country emerged, grew to millions, and pressured the government, the baldy—that's what we call him, Salinas the baldy—to sit down and dialogue with us, and at the same time urged us to sit down to dialogue and negotiate.
We understood the call of the people of Mexico. So we gave the order to retreat from violent struggle. It was then that we discovered, through the compañeras—because in combat our people died—but the compañeras were developing what we might call another way to struggle. Because the government, a month later, a year, two years later, wanted to buy us off, as we put it, they wanted us to accept aid and forget about struggle.