CNI



Convocation to the Constitutive Assembly of the Indigenous Governing Council for Mexico
NATIONAL INDIGENOUS CONGRESS
CONVOCATION
Given the decision made in the second phase of the Fifth National Indigenous Congress December 29, 30, and 31, 2016 and January 1, 2017, during which it was agreed:
FIRST: "…to name an Indigenous Governing Council with men and women representatives from each one of the peoples, tribes, and nations that make up the CNI. This council proposes to govern the country. It will have an indigenous woman from the CNI as its spokesperson, which is to say, a woman of indigenous blood who knows her culture. This indigenous woman spokesperson from the CNI will be an independent candidate for the presidency of Mexico in the 2018 elections."
SECOND: "…[to call] on the originary peoples of this country, the collectives of the Sixth, workers, coalitions and committees who struggle in the countryside and the city, students, intellectuals, artists, scientists, the elements of civil society that are not organized, as well as all good-hearted people to close ranks and go on the offensive. We call on you to dismantle the power of above and to reconstitute ourselves now from below and to the left, not only as peoples but as a country, to come together in a single organization where dignity will be our final word and our first action. We call on all of you to organize with us to stop this war, and to not be afraid to sow our seeds and build ourselves upon the ruins left by capitalism."
THIRD: "…[to convoke] a constituent assembly of the Indigenous Governing Council for Mexico in the month of May 2017…to make the earth tremble at its core, to overcome fear and recuperate what belongs to humanity, what belongs to the earth, and what belongs to the peoples, to recuperate the territories that have been invaded or destroyed, for the disappeared of this country, for the freedom of all political prisoners, for truth and justice for all of those who have been murdered, for the dignity of the countryside and the city…making dignity the epicenter of a new world."
We have agreed to convoke the authorities, representatives, delegates, and councilpersons named by the indigenous peoples, nations, tribes, barrios, communities, and organizations that participate in the CNI to celebrate the:
CONSTITUTIVE ASSEMBLY OF THE INDIGENOUS GOVERNING COUNCIL FOR MEXICO
To be held May 26, 27, and 28 of 2017 at the facilities of the Indigenous Center for Integral Learning (CIDECI-UNITIERRA) in San Cristóbal de las Casas, Chiapas, Zapatista territory, in accordance with the following schedule:
PROGRAM (Continuar leyendo…)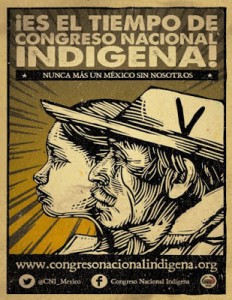 Anunciamos las redes del Congreso Nacional Indígena así como su sitio oficial
El Congreso Nacional Indígena con el propósito de crear  un espacio de información y comunicación en las redes sociales, hemos generado la página, el Facebook y la cuenta en Twitter oficiales.  son espacios que nos permitirán establecer un diálogo con todas las personas, organizaciones, colectivos y pueblos que estén interesados en el proceso del CNI.
También serán espacios en donde difundiremos nuestra palabra, nuestro sentir y caminar a lo largo de toda la iniciativa que estamos desarrollando a través del Concejo Indígena de Gobierno y la Vocera del CNI.

Esperamos  que las redes sociales nos permitan abrir un camino de acercamiento con las y los otros, un camino de información generado desde nosotr@s, y que será el espacio en el que se irán anunciando las diferentes actividades y acontecimientos concernientes al camino que recorreremos en los próximos meses como CNI.
Nos encuentran en Facebook
Nos pueden seguir en Twitter
Y en el sitio: