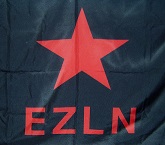 Adagio-Allegro Molto in E minor: A Possible Reality
(from the Notebook of the Cat-Dog)
"As you know, madness is like gravity…all it takes is a little push."
The Joker in the role of Heath Ledger (or was it the reverse?)
Nobody knows for sure how it all started. Not even the Tercios Compas [Zapatista media], who took up the task of reconstructing the sequence of events, could pinpoint the exact moment and event in which the story I'm about to tell you began.
According to one version, SubGaleano is responsible for everything. Others say SubGaleano only started it and it was Subcomandante Insurgente Moisés who took it to completion.
See, what happened was that in one of his texts, SubGaleano mentioned a February 2011 program in which the journalist Carmen Aristegui asked if then-president Felipe Calderón Hinojosa was an alcoholic, and added that the nation should be informed about the health of the president. She was fired in retaliation. Up to that point in the story there is no disagreement—and you can confirm that's what happened by referring to news articles from that time.
The problem really begins when SubGaleano added something like, "Madness, as pointed out by a misunderstood sage of the human soul, is like gravity: all it takes is a little push. To hold Power unlawfully is just that irresistible push that all those above long for, and it begins with three simple words, "I rule here." If you think anyone in the media is going to question whether the current president is lacking in any of his mental faculties (let's be clear, he didn't say "crazy"), don't hold your breath, because nobody will dare to do so."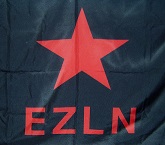 The Overture: Reality As Enemy
"If our epoch thinks this way," the world says to itself, "who is (no)one to say otherwise"? Who are the politicians to do so if they should obey us? Who are the judges to do so if their decisions are obligated to reflect and please us? Who are the journalists and essayists to do so if their opinions should meld with our own? Who are the thinkers to do so…given that they aren't even necessary to us? Who are the law makers to say otherwise if they are supposed to establish laws following our dictates?"
–Javier Marias, "When Society Is The Tyrant." (from El País Semanal, May 13, 2018) *
(*) I don't know if citing Javier Marías (whose novels A Heart So White and Tomorrow In The Battle Think on Me eased the sleeplessness of the now deceased SubMarcos during the nights after the betrayal which took place in February of 1995) makes me part of the conservatives' and neoliberals' "mafia of power." I mean, I bring this up given the fact that Javier Marias has worked with the Spanish newspaper El País and that he tends to sharply question the evidence when others tend to swallow it hook, line, and sinker without so much as a whimper and that he's intelligent and can't (nor do I think that he wants to) hide it. In addition, let's not forget that that he's a monarchist because he is king, Xavier I, of the Kingdom of Redonda and a member of the Royal Academy of Spain. All of these reasons are more than enough reason to tag him as a "conservative/neoliberal/enemy of the people and its vanguard which is marching inexorably to the fulfillment of all history," by the new thought police that we now suffer.
As I'm sure you all know by now, I care a lot about "what people say" about me because I have a reputation to protect. Given this concern I had to think carefully and in all seriousness about this citation…for all of a fraction of a second. At that moment I saw hashtags, trending topics, likes and dislikes, facebook rants, whatsapps, instagrams, morning press conferences, and opinion columns all flash before my eyes filled with condemnations and damning tags.
In my defense, I thought I could mention the fact that along with the Javier Marías books that the now deceased SubMarcos carried during those dark days, you could also find books by Manuel Vazquez Montalbán as well as Miguel Hernandez's Expert in Moons. I thought I could also bring up the fact that Javier Marías is a fan of (or was a fan of—support for a football team is like love—it's eternal, until it ends) Real Madrid, that Manuel Vázquez Montalbán is a fan of Barcelona, that Mario Benedetti is a fan of Nacional from Montevideo, Almuneda Grandes supports Atlético Madrid, Juan Villoro backs Necaxa and that I, in contrast, with my provincial chauvinism which is all the rage, support Jaguares from Chiapas.
(N.B.! Instead of using Baseball, the sport that has become the official sport and the sport of officialdom, I prefer to use soccer as my referent. So, make sure to add these additional sins onto my sentence.)