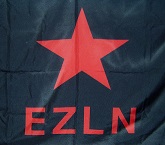 Words of the EZLN's Sixth Commission at the Gathering of Support Networks for the Indigenous Governing Council (CIG) and its spokeswoman
(Expanded version)
Given time restrictions, we were unable to present these thoughts in full during the gathering. We promised you the full version, and we include the full transcription here, including the parts that were not read at the gathering. You're welcome. Don't mention it.
300
Part I:
A Plantation, a World, a War, Slim Chances.
August, 2018.
Subcomandante Insurgente Galeano:
Good morning, thank you for coming, for accepting our invitation and for sharing your words with us.
We are going to begin by explaining our way of doing analysis and evaluation.
We start by analyzing what is happening in the world, then move to what is happening at the continental level, then to what is happening in this country, then to a regional and finally to a local level. From there, we develop an initiative and begin to move back up from a local level to a regional level, then to the national, the continental, and finally the global level.
We think that capitalism is the dominant system at the global level. In order to explain this system both to ourselves and to others, we use the image of a plantation. I'm going to ask Subcomandante Insurgente Moisés to explain this part.
-*-
Subcomandante Insurgente Moisés:
Compañeros and compañeras: we interviewed our own compañeros and compañeras who are our great-grandfathers and great-grandmothers, some of whom are still alive. The following is what they told us and what they helped us understand: how the rich, the capitalists, want to turn the whole world into their plantation.