Audio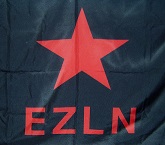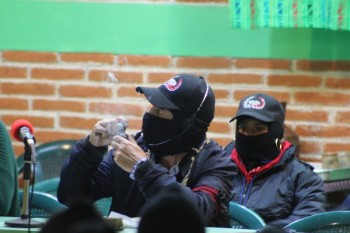 The Cat-Dog and the Apocalypse
Listen here (in Spanish): (Descarga aquí)
December 29, 2016.
Science fiction.
Remember that: science fiction. You'll see that, in your coming nightmares, it will help you to not become so distressed, or at least not uselessly distressed.
Perhaps you remember some science fiction movie. Perhaps science fiction set some of you down the path of scientific science.
It didn't do that for me, perhaps because my favorite science fiction movie is La Nave de los Monstruosi with the unforgettable Eulalio González, known as "el Piporro," the soundtrack for which has been unjustly excluded from the Oscars, the Golden Globes, and the local and renowned "Clay Pozol Bowl."ii Perhaps you've heard talk of the movie: it's a "cult" film, according to one of those specialized magazines that nobody reads, not even the people who edit it. If you remember the film and/or you see it, you'll doubtless understand why I ended up lost in the mountains of the Mexican Southeast and not in the suffocating bureaucratic web that, at least in Mexico, chokes scientific investigation.
You'll also cheer the fact that that movie is my point of reference for science fiction, instead of 2001: A Space Odyssey by Kubrick, or Alien by Ridley Scott (with Lieutenant Ripley breaking with Charlton Heston's blueprint of the macho survivor in "Planet of the Apes"), or Blade Runner, also by Ridley, where the question "Do androids dream of electric sheep?" is the nodal point.
So you should thank Piporro and his "Star of Desire"iii and the robot Tor in love with a jukeboxiv for the fact that that I'm not on their side in this encounter.
L@s Zapatistas y las ConCIENCIAS por la Humanidad
30 de diciembre de 2016
Cideci / Universidad de la Tierra Chiapas
En este quinto día del encuentro L@s Zapatistas y las ConCIENCIAS por la Humanidad, continuaron las discusiones sobre el sobre la necesidad de pensar y hacer una ciencia libre y comunitaria, vinculando los conocimientos tradicionales a los producidos por el quehacer científico, rumbo a saberes emancipatorios en defensa de la vida y la construcción de alternativas para nuestro mundo. Desde la astronomía y la astrofísica a la biología, la ecología y la medicina, los científicos reflexionaron con profundidad y respondieron las preguntas incisivas de lxs alumnxs zapatistas.
En el cierre, el Subcomandante Insurgente Moisés presentó a dos miembros del Congreso Nacional Indígena, quienes, al hablar de "Los Pueblos Originarios y las ciencias para la vida", hicieron un recuento de los "espejos" del despojo y la resistencia de los pueblos, desarrollados desde la compartición entre lxs zapatistas y el CNI en La Realidad en 2004 hasta ahora. El despojo que sufren los pueblos, sobre todo indígenas y campesinos, son el resultado de una ciencia puesta al servicio de los intereses empresariales aliados al gobierno y al crimen organizado, que están devastando el país y los territorios de los pueblos que defienden la vida. (En ese sentido, ve el análisis de SubVersiones sobre las resistencias del Congreso Nacional Indígena.)
Mientras el ConCIENCIAS continúa, iniciaron a puerta cerrada las discusiones, en las instalaciones del Cideci/Universidad de la Tierra Chiapas, del V Congreso Nacional Indígena entre cientos de delegados y delegadas del CNI y del EZLN. Mañana, el 1 de enero de 2017, en el Caracol de Oventic, tendrá lugar la plenaria del V CNI, en la que se dará a conocer el resultado de la consulta sobre la conformación de un Concejo Indígena de Gobierno cuya voz y cuerpo será una mujer indígena como candidata independiente en las elecciones presidenciales de 2018, y se discutirán los próximos pasos a seguir.
Ponencias:
M. en C. Jesús Vergara Huerta: "La irrupción de la ciencia libre y comunitaria en el siglo XXI"
(Descarga aquí)
Ing. Gibran Mubarqui Guevara: "De lo impuesto a lo comunitario. Rehaciendo las ciencias"
(Descarga aquí)
Dr. Jérôme Leboeuf – "Riesgos que conlleva la Inteligencia Artificial":
(Descarga aquí)
Dr. John Vandermeer – "Ecología como una ciencia y como un componente de las cosmovisiones":
(Descarga aquí)
Dra. Ivette Perfecto – "Ecología como una ciencia y como un componente de las cosmovisiones II":
(Descarga aquí)
Palabras del Subcomandante Insurgente Moisés y del Congreso Nacional Indígena – "Los Pueblos Originarios y las ciencias para la vida":
(Descarga aquí)
Pláticas de divulgación
Dra. Ivette Perfecto. "Complejidad ecológica en cafetales de Chiapas"
(Descarga aquí)
Preguntas y respuestas – Dra. Ivette Perfecto:
(Descarga aquí)
Dr. Yuri Nahmad Molinari. "Cosechando el Sol"
(Descarga aquí)
Preguntas y respuestas – Yuri Nahmad Molinari:
(Descarga aquí)
Fis. Alejo Stark. "Cosmos sin fronteras: La poética lógica relacional de la cosmología física"
(Descarga aquí)
Preguntas y respuestas – Alejo Stark:
(Descarga aquí)
Médico Lilia Piélago García – "Cuidados Paliativos, un derecho de todos":
(Descarga aquí)
Preguntas y respepuestas – Lilia Piélago García:
(Descarga aquí)
Dr. Juan Manuel Malda Barrera – "Empatía y evolución":
(Descarga aquí)
Dr. Remy Froissart – "Bacteriófagos vs. bacterias":
(Descarga aquí)
Entrevistas
Entrevista a Dr. Remy Froissart:
(Descarga aquí)
Entrevista a Médico Lilia Piélago García:
(Descarga aquí)
Entrevista a Alejo Stark:
(Descarga aquí)