Audio
Primero de enero de 2017, Caracol de Oventic, Los Altos de Chiapas, montañas del sureste mexicano. Aquí, en un atiborrado auditorio repleto de delegados y delegadas del Congreso Nacional Indígena (CNI), padres y madres de los noralistas desaparecidos y asesinados de Ayotzinapa, científicos invitados al encuentro ConCIENCIAS, adherentes a la Sexta Declaración de la Selva Lacandona y bases de apoyo, insurgentes y comandantes del Ejército Zapatista de Liberación Nacional, se dio el anuncio histórico de la decisión de crear un Concejo Indígena de Gobierno para gobernar al país, cuya voz será la de una mujer indígena que se postulará como candidata a las elecciones presidenciales del 2018.
La decisión surge de la propuesta hecha por el EZLN durante la asamblea del V Congreso Nacional Indígena realizada el pasado octubre en el Cideci/Universidad de la Tierra, Chiapas. En esa ocasión, los delegados de 33 pueblos, naciones y tribus originarios acordaron iniciar una consulta en todas las comunidades del CNI para aprobar o rechazar la propuesta. Ahora, en este 23 aniversario del levantamiento zapatista, se dio a conocer el resultado de la consulta y se aprobaron los resolutivos acordados el 30 y 31 de diciembre de 2016 en asamblea, con la presencia de casi un millar de delegadxs de 43 pueblos, naciones y tribus originarias del país.
Los principales acuerdos fueron:
Conformar un Concejo Indígena de Gobierno con representantes hombres y mujeres de los pueblos, tribus y naciones originarias que integran al CNI.
Este Concejo será colectivo, o sea, "que no uno manda", y se regirá por los siete principios de gobierno del EZLN y el CNI: obedecer y no mandar; representar y no suplantar; bajar y no subir; servir y no servirse; convencer y no vencer; construir y no destruir; proponer y no imponer.
Que la voz de este Concejo sea la de una mujer indígena perteneciente al CNI.
Que esa mujer indígena sea postulada como candidata independiente a las elecciones presidenciales del 2018.
Tanto los miembros del Concejo como su vocera serán propuestos y legitimados en asamblea y nombrados según los usos y costumbres, y sus puestos serán revocables por la asamblea del CNI. Además, se acordó una serie de medidas para fortalecer al CNI y a los pueblos indígenas, como eliminar todo aquello que divide, como partidos políticos y proyectos gubernamentales, y desarrollar la autonomía en todos sus ejes, sobre todo en la educación, la justicia y el autogobierno.
La consulta se realizó en un total de 525 comunidades de 43 pueblos en 25 estados; de esas, 430 comunidades aprobaron la propuesta. Otras 80 consultas continúan en proceso, y a éstas se sumaran otras que lo soliciten al CNI, con pueblos indígenas, afrodescendientes y migrantes. Los delegados explicaron también que en algunas comunidades no se pudo realiar la consulta por varias razones, entre ellas la violencia que se vive en varias partes del país.
Para conformar el Concejo Indígena de Gobierno, se realizará una Asamblea Constituyente en mayo de 2017.
La asamblea finalizó con las palabras del Subcomandante Insurgente Moisés, quien dijo que el EZLN respalda plenamente la propuesta. "Tienen nuestro apoyo con toda nuestra fuerza", dijo, porque "tal vez sea la última oportunidad de que estos suelos no desaparezcan entre tanta muerte".
La propuesta y la decisión surge del brutal despojo y violencia que sufren las comunidades indígenas del país ante los proyectos de muerte en todo el territorio nacional. Un análisis detallado de este despojo se dio a conocer en octubre tras las reuniones del V Congreso Nacional Indígena (ver "Que retiemble en sus centros la tierra").
"Que retiemble en sus centros la tierra" fue el lema que surgió de la asamblea del CNI el pasado octubre. Y retembló la tierra ante el anuncio de la consulta. Expresiones, por un lado, de un racismo profundo, visceral, enraizado en la cultura mexicana; y, por otro, la esperanza de una alternativa real para el país, fundamentada en la experiencia de autogobierno horizontal, radicalmente democrático, del EZLN y los pueblos del CNI. La esperanza de que en México pueda reinar una justicia verdadera, de que se pueda frenar la violencia y el despojo de la tríade gobierno-empresas-crimen organizado, de que entre los escombros dejados por la destrucción sistemática que nos acomete pueda florecer la vida: una casa para todos y todas, donde quepan muchos mundos.
Como en todas las iniciativas del CNI y del EZLN, lo fundamental está en el proceso. Los próximos meses prometen ser una lección, para el país y el mundo, de que es posible crear formas otras de democracia radical con justicia y dignidad.
Escucha los audios:
Lectura de resolutivos del 30 de diciembre de 2016:
(Descarga aquí)
Lectura de resolutivos del 31 de diciembre de 2016:
(Descarga aquí)
Carta de Gonzalo Molina, preso político de la CRAC-PC:
(Descarga aquí)
Carta del Chanti Ollin:
(Descarga aquí)
Carta de padres y madres de los 43 de Ayotzinapa:
(Descarga aquí)
Palabra de padres y madres de los 43 de Ayotzinapa:
(Descarga aquí)
"Y Retembló: Informe desde el epicentro" – Palabras conjuntas del CNI y del EZLN:
(Descarga aquí)
Palabras de clausura del Subcomandante Insurgente Moisés:
(Descarga aquí)
Nota: Para mejor entender la propuesta, ver: CNI y EZLN: Que retiemble en sus centros la tierra (CNI y EZLN), Preguntas sin respuestas, respuestas sin preguntas, concejos y consejos (Subcomandante Galeano), No es decisión de una sola persona (Subcomandante Moisés) y Una historia para tratar de entender (Subcomandantes Moisés y Galeano).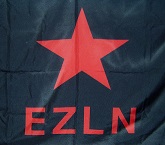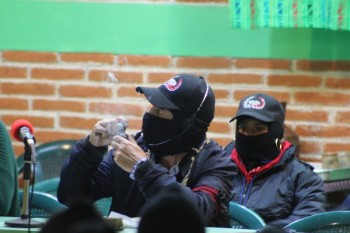 The Cat-Dog and the Apocalypse
Listen here (in Spanish): (Descarga aquí)
December 29, 2016.
Science fiction.
Remember that: science fiction. You'll see that, in your coming nightmares, it will help you to not become so distressed, or at least not uselessly distressed.
Perhaps you remember some science fiction movie. Perhaps science fiction set some of you down the path of scientific science.
It didn't do that for me, perhaps because my favorite science fiction movie is La Nave de los Monstruosi with the unforgettable Eulalio González, known as "el Piporro," the soundtrack for which has been unjustly excluded from the Oscars, the Golden Globes, and the local and renowned "Clay Pozol Bowl."ii Perhaps you've heard talk of the movie: it's a "cult" film, according to one of those specialized magazines that nobody reads, not even the people who edit it. If you remember the film and/or you see it, you'll doubtless understand why I ended up lost in the mountains of the Mexican Southeast and not in the suffocating bureaucratic web that, at least in Mexico, chokes scientific investigation.
You'll also cheer the fact that that movie is my point of reference for science fiction, instead of 2001: A Space Odyssey by Kubrick, or Alien by Ridley Scott (with Lieutenant Ripley breaking with Charlton Heston's blueprint of the macho survivor in "Planet of the Apes"), or Blade Runner, also by Ridley, where the question "Do androids dream of electric sheep?" is the nodal point.
So you should thank Piporro and his "Star of Desire"iii and the robot Tor in love with a jukeboxiv for the fact that that I'm not on their side in this encounter.